The Journal-World's second annual list of Top 10 Kansas newsmakers is dominated by elections past and future.
Kansas witnessed a preview of the electorate's changing mood in August when the Republican Party primary reversed the 6-4 conservative majority on the Kansas State Board of Education to a 6-4 moderate majority.
Then came November, and a new Democrat - Paul Morrison - soundly defeated conservative Republican Attorney General Phill Kline, while Democrat Nancy Boyda upset five-term Congressman Jim Ryun, a Republican from Lawrence.
But 2006 wasn't just about elections.
Kansans got fired up about a proposed coal-burning plant, and big changes swept through the worlds of Kansas State University sports, public school funding and even the right of women to breast-feed.
Take a look at our top 10 list and tell us your own.
1. U.S. Sen. Sam Brownback
A Kansan in the White House in 2008? Brownback is taking his brand of politics for a tour of the Republican Party landscape in a presidential bid.
Brownback is vehemently anti-abortion, anti-gay marriage and anti-embryonic stem cell research. He has been an outspoken critic of the turmoil in Sudan and favors a guest worker program that would allow a path to citizenship for some illegal immigrants.
Most political observers have estimated Brownback as a long shot at best, who possibly is positioning himself for consideration for the vice presidential nomination.
2. Attorney General-elect Paul Morrison
In the nastiest campaign of the year, Morrison, a Republican-turned-Democrat, swamped Phill Kline's bid for a second four-year term, largely by accusing Kline of abusing his authority in investigating two abortion clinics. The battle took an unprecedented turn when Kline then rose from the ashes of defeat to win an election of Republican precinct officials to replace Morrison as the Johnson County district attorney.
3. U.S. Rep.-elect Nancy Boyda
Two years ago, Boyda, a Democrat from Topeka, appeared headed for political oblivion after Ryun, a conservative Kansas icon, trounced her by 15 percentage points. But, as they say, two years is a lifetime in politics.
In 2006, Boyda benefited from unease about the war in Iraq and discontent with congressional scandals. She also painted Ryun as having lost touch with the district. The tide turned, and not even visits to Topeka by President Bush and Vice President Dick Cheney could bail Ryun out.
After her victory, Boyda immediately got a plum seat on the House Armed Services Committee.
4. Holcomb power plant
Sunflower Electric Power Corp.'s proposal for three 700-megawatt coal-fired plants emitting 15 million tons of carbon dioxide per year in western Kansas sparked a debate about global warming.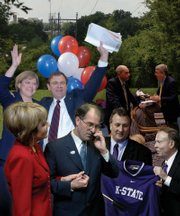 Eight states and the Lawrence City Commission wrote letters opposing the plants.
Kansans await a decision from the Kansas Department of Health and Environment on whether the project will proceed.
5. K-State's new coaches
How do you follow legendary Kansas State University football coach Bill Snyder? For first-year coach Ron Prince the formula was to exceed expectations, defeat national defending champion Texas and go to a bowl game.
New K-State basketball coach Bob Huggins' task was a little different. He inherited a mediocre program, but along with his winning ways he also carried a stormy past both on and off the court.
6. Alan Rupe, school finance attorney
For several years, the Wichita attorney held lawmakers' feet to the fire over school finance, a debate that consumed Kansas politics.
In 2005 the Kansas Supreme Court ruled the school finance system unconstitutional because it failed to adequately fund all students, especially those in high minority districts.
At one point during tense back-and-forth negotiations, House Speaker Doug Mays, R-Topeka, said "Alan Rupe can shove it :. He's just another greedy lawyer trying to make millions off the schoolchildren of the state."
Rupe didn't seek an apology, saying of Mays, "If he were to apologize for things he should apologize for, it would just take too long."
After the 2006 legislative session, the Legislature approved a $466 million, three-year plan for schools. That was on top of $290 million approved the year before in a battle that forced a special legislative session.
Noting the funding increases and changes in the way the money is used, the court dismissed the lawsuit last summer.
7. Barbara Atkinson, executive vice chancellor of the Kansas University Medical Center
When conservative state lawmakers sought to ban human cloning, KU sent Atkinson to persuade them against it, arguing that the bill would have gone much further than they thought and would hurt Kansas' efforts at attracting top scientists.
Atkinson also is considered the main mover and shaker behind the medical center's attempts to build affiliations with health institutions across the Kansas-Missouri border. While some legislators have expressed concern that such moves could hurt Kansas taxpayers, leading elected officials have given Atkinson their support.
8. The Kansas State Board of Education
The State Board of Education continued to be a lightning rod in the culture wars in 2006, and apparently voters had enough of it.
Dogged by criticism over travel expenses, the hiring of Education Commissioner Bob Corkins and the fight over evolution and sex education, Connie Morris, a conservative Republican from St. Francis, was voted out of office in the August Republican Party primary.
Combined with voter replacement of another conservative board member, who resigned, with a more moderate Republican in the southeast Kansas district, moderates will hold a 6-4 majority when new members take office Jan. 8.
Corkins, whose hiring in 2005 caused an uproar, resigned just before last Thanksgiving.
Corkins had been hired by the previous 6-4 conservative majority to lead the Kansas school system even though he had no experience in education and had lobbied against large increases in funding for schools. During his tenure as commissioner, he fought for vouchers and charter schools, which operate under reduced regulations.
9. Amy Swan
In March, Gov. Kathleen Sebelius signed into law a bill that gives women the right to breast-feed anywhere they have a right to be.
The law was the culmination of a three-year effort that started when Swan, of Lawrence, was breast-feeding her then 6-month-old daughter in a health club and a man told her he didn't want his son exposed to the sight.
She and other women across the state had similar stories of being insulted, harassed and even threatened when they breast-fed their babies.
They lobbied the Legislature, extolling the benefits of breast-feeding along the way, and ultimately obtained the bill they wanted.
10. Richard Lariviere, KU provost and executive vice chancellor
Lariviere, a Sanskrit scholar, was hired last year from the University of Texas at Austin to replace David Shulenburger, who stepped down after 13 years in the seat.
In the course of the year, Lariviere pushed several proposals.
He wants to make KU's admissions requirements tougher. Currently, incoming freshmen are required to have an ACT score of at least 21 or an SAT score of at least 980, a 2.0 grade-point average and a ranking in the top one-third of the high school class.
Lariviere says that's not good enough. He also vowed to focus on student retention, research and a new guaranteed tuition plan that would give entering freshmen a set rate over their four years.
Read more about the Top 10 Kansans of 2006
1. U.S. Sen. Sam Brownback
2. Attorney General-elect Paul Morrison
3. U.S. Rep.-elect Nancy Boyda
4. Holcomb power plant
5. Kansas State's new coaches
6. Alan Rupe, school finance attorney
7. Barbara Atkinson, executive vice chancellor of the Kansas University Medical Center
8. Connie Morris, member of the State Board of Education
9. Amy Swan
10. Richard Lariviere, KU provost and executive vice chancellor
Copyright 2018 The Lawrence Journal-World. All rights reserved. This material may not be published, broadcast, rewritten or redistributed. We strive to uphold our values for every story published.