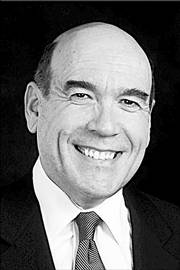 Richard Lariviere, a Sanskrit scholar and dean of liberal arts at the University of Texas at Austin, is Kansas University's new provost and executive vice chancellor.
Lariviere, 56, talked with the Journal-World about changes he expects to see in his first year at KU.
Q: Is the provost's office what you expected?
A: Yes, pretty much. I didn't expect the uniformly high-quality staff. That's been a very pleasant surprise.
Q: Any memorable moments so far?
A: The first time I came out of my married student housing apartment at 7:30 in the morning and it was chilly, that was pretty memorable.
Q: Tell me about your living conditions these days.
A: We're staying in married student housing. It's actually been quite a lot of fun. This is where my wife and I came in 35 years ago. Got married when I was still an undergraduate, lived in married student housing that was far less comfortable and - hate to say the word luxurious, but, yes - less luxurious than it is here. Hardwood floors. Two bedrooms. Nice kitchen. Wouldn't want to live there permanently, but it's been quite comfortable for the last month.
Q: How do you plan to spend the summer at KU?
A: Learning the ropes here, meeting people, meeting deans, meeting key scholars and scientists, meeting other administrators here and on the med school campus, and figuring out what their issues are and how I can help sort through their issues.
Q: What can the university expect from you in the first year?
A: They can expect really long days and aggressive advocacy for their best interests.
Q: Have you learned about KU's strengths and weaknesses?
A: I've learned some of the strengths and weaknesses. I can't say that I've exhausted the arena. I have learned, for example, that there's a level of collegiality and focus on the institution's best interest that is really rare in higher education institutions. There tends to be at high-powered research institutions like this one a kind of attitude of independent contractor status. In other words: "I'm here to do my work. To the extent that you can help me do my work, I'm interested in what you have to say. Otherwise, get out of my life." Here there tends to be, at least in my experience so far, a really great attitude of: "I'm here to do my work, but I'm here to do my work in an institutional setting that is important, and let's talk about that institutional setting." That's really refreshing and I think bodes well for the long-term health of this institution.
Q: Anything that needs to be improved?
A: Yes, we have to find out ways to make sure that the limited resources available to us - and they are very limited - are optimally spent. We can't afford to make many mistakes on the fiscal front, because there just isn't much breathing space.
Q: The Regents recently approved the last leg of the five-year tuition plan. Is tuition too high?
A: Absolutely. Tuition is way too high. It should be zero.
Q: Care to elaborate on that?
A: The purpose of these institutions is to endow young people with such skills that are going to turn them into far more productive, far more effective citizens. They're going to earn more. They're going to pay more taxes. They're going to be better participants in government, better leaders in society. We should make this experience available at the cheapest possible amount for these kids so that every person who is capable of taking advantage of it can get out of bed in the morning and say, "I'm going to the university to get these skills." What's happened is that as tuition has gone up, we have put a sticker-shock phenomenon in place that's discouraging. Not discouraging for the upper-economic classes, but it is terribly discouraging for the lower socioeconomic classes, and we're cutting ourselves off, I'm afraid, from the huge talent pool that we're going to need.
Q: Why is guaranteed tuition a good idea?
A: It's a sort of pact with the middle class, if you will, in which we recognize - as does everyone - that there has been this steady and sometimes dramatic increase in tuition - not just at KU, but everywhere. And this is our attempt at KU to say to people: "We're going to provide as much predictability for the cost of education as we can."
Q: Do you have any thoughts on whether Wescoe or any other buildings on campus are causing health problems?
A: I've asked all the experts available here what they can tell me about that. We have no indication that Wescoe is causing health problems. But the most valuable thing we have on campus is our faculty, and we have to investigate and make sure it's not causing any health problems. That's what we're doing.
Q: Speaking of faculty, what is KU doing to address faculty salaries?
A: A significant portion of the tuition enhancement plan has gone into faculty salaries. While we're still precariously below the market in key areas, we've made some significant strides in the last four years. That has helped enormously.
Q: How can KU improve education for undergraduate students?
A: Keep in mind that we're starting from a very strong position with regard to undergraduate education. I think it's really first-rate here. Can it be improved? Of course, it can be improved. ... One of the ways it can be improved is by our helping students understand what it is we want them to do in the course of their education, so they can make decisions about courses and degree programs, etc., with real intentionality. That is, they say: "I'm taking this course because I know how it fits into my overall educational goals." That's a very different approach from saying that if you want to major in biology, you have to take this course and that course and choose among these other five options. ... I want to see us move toward greater student understanding of their own education.
Q: Are there are any plans in the works?
A: Yes, and I don't want to go into any details yet.
Q: KU is on a push to get students to graduate in four years. Why should that matter?
A: We have designed degree programs and the whole constellation of the undergraduate experience around a four-year timetable. You can graduate from a place like KU in three years if you really wanted to, but you'd be cheating yourself out of a whole array of rich experiences. You can also take six years to graduate, but you'll be cheating yourself by having that adding on to the cost of your education in a way that's unnecessary and really dramatic.
Q: What can KU do to encourage graduation in four?
A: As far as I know we don't have any impediments in terms of course availability, and so we're OK there. What we need to do is to make clear to students why this program is four years - not three and not five and not six - and then make clear to them that we expect them to graduate in four years. It's pretty common for people in commencement speeches to joke about how long it takes to graduate. I don't like those jokes. It sounds as though we're saying it's OK to take six or seven years to get an undergraduate education. I don't think that's a good idea. I think that's a waste of the taxpayers' money. It denies a place at KU to somebody who might have wanted to be here. We need to get these kids well-trained and into productive, fulfilling careers within four years. We can do it. We're going to improve those numbers.
Q: What are your thoughts on the focus on athletics and academics at KU? Is that focus where it should be?
A: These institutions are about balance. We could have the finest of anything at KU if we just put all of our money behind that one thing. But then we'd have to close down a department, or a college or a school, and we don't want to do that. I think the balance at KU is about right. Big-time athletics at public universities create interest and enthusiasm and the mind share of the public that is pretty hard to do through any other means.
Copyright 2018 The Lawrence Journal-World. All rights reserved. This material may not be published, broadcast, rewritten or redistributed. We strive to uphold our values for every story published.