Change is coming to City Hall, though the face promising to bring it is familiar.
David Corliss was named Lawrence's new city manager Friday after six months as interim manager and 16 years as a member of the management team under Mike Wildgen, who was forced to resign in March.
"My desire is not business as usual," Corliss said shortly after Mayor Mike Amyx made the announcement in front of an enthusiastic City Hall crowd of roughly 100 people. "It is to be better at business."
Corliss, 45, was chosen after commissioners did a nationwide search. The process produced 25 applicants, and commissioners interviewed three finalists last weekend. The other two finalists were R. Leon Churchill Jr., managing director of Reading, Pa., and Dennis Taylor, city manager of Eugene, Ore.
"David's skills and abilities matched up and exceeded those of other candidates," Amyx said. "In the end, David earned the city manager's job."
As the city's sixth city manager, Corliss becomes the top executive at City Hall, the most powerful nonelected position there. He'll oversee the city's 760 employees and implement its $126 million annual budget.
Commissioners on Friday did not officially approve a contract for Corliss. Final details are being worked out. Amyx said it would be approved and made public at the commission's Oct. 10 meeting. Corliss' salary will be within the advertised range of $120,000 to $135,000, the mayor said.
Photo Gallery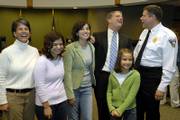 David Corliss
Corliss was making $115,000 per year as interim city manager. He previously had a salary of $103,000 per year as an assistant city manager.
Amyx said he believed Corliss had unanimous support of the five city commissioners. Four were on hand for the announcement and expressed support for Corliss. Commissioner Mike Rundle, a frequent critic of Wildgen, was out of town and unavailable for comment.
Complete review
Corliss started work at City Hall in 1990, when Wildgen hired him to serve as a management analyst. Corliss, a lawyer, was promoted to director of legal services in 1996. He was named one of Wildgen's two assistant city managers in 2000.
He was appointed to serve as interim city manager in March, after three of the five city commissioners asked for Wildgen's resignation because they had concerns about how the city was planning for growth and maintaining its infrastructure.
"I've been fortunate to work for this community for a number of years, yet do not confuse my experience with this community as comfort or complacence," Corliss said during a brief speech following his introduction. "I have a sense of urgency that we cannot continue on our current path, and we need to rigorously review our organization from top to bottom."
Corliss said no part of the city's organization will be off limits for his review. He said City Hall may need to be restructured to be more efficient and effective. He's already considering merging the city's Planning Department with the city's Neighborhood Resources Department to produce a one-stop shop for people looking to do development in the community.
His openness to change was a major selling point, commissioners said.
"His comments about a top-to-bottom review were extremely important to me," City Commissioner David Schauner said. "I think there is going to be a new era of how the community works with City Hall."
Reaction
Some, though, were still questioning whether an "outside set of eyes" would have been useful for the city as it prepares for major projects, such as an $80 million sewer treatment plant that will open up the area south of the Wakarusa River to growth.
"It seems like the new era looks a lot like the old era," said Price Banks, a Lawrence lawyer and a former planning director for the city. "But David will work hard and will try to do what's right for the community."
Others, though, said they were excited by the announcement. The crowd at City Hall - which filled the commission meeting room and extended into the lobby - included developers, lawyers, former city commissioners, neighborhood representatives and a significant number of city employees. The crowd gave Corliss a standing ovation when he was announced.
Gwen Klingenberg, president of the Lawrence Association of Neighborhoods, said her group also was pleased.
"Dave has been really good about keeping the neighborhoods involved," Klingenberg said. "We no longer have to stay in City Hall's face to be remembered."
Interim success
Commissioners and members of the public alike said they believed Corliss would be different as the city manager than he was as an assistant city manager.
Privately, some members of the community had said Corliss as an assistant city manager was asked to play the role of a vice principal. He often was the man sent to tell someone no, or be the sternest face in the room.
David Corliss
Age: 45 Family: Married to Sarah. They have three daughters, Emily, 16, Katherine, 13, and Laura, 10. Education: Bachelor of Arts in political science, master's in public administration and a law degree, all from Kansas University. Previous employment: Research attorney for the League of Kansas Municipalities from 1987 to 1990, management analyst for city of Lawrence in 1990, director of legal services for the city in 1996 and assistant city manager since 2000.
"I think what Dave Corliss was as the No. 2 guy is not the man we hired to be the city manager," Schauner said. "He wasn't in the position to make final decisions. He was just carrying out whatever final decisions were made."
Commissioners said they got a better glimpse of Corliss during his time as interim city manager. In particular, commissioners praised him for making the city's budget process more transparent and easier to understand for commissioners and the public.
"We asked for things, and we got them," said Commissioner Boog Highberger. "He really had an opportunity to show his vision and his leadership."
For some, though, the turning point on Corliss came even earlier. Just a few days after taking over as interim city manager, he hosted a "sewer summit" with a room full of developers upset that projects were being held up at City Hall because of concerns that the sewer system in northwest Lawrence could not accommodate more growth.
"He got up in front of that room and said the city made a mistake, things were overlooked, and we're not going to let that happen again," City Commissioner Sue Hack recalled Friday. "It takes a big person to do that, but it also takes a person who realizes that you only get results by being honest about the situation you are in."
Copyright 2018 The Lawrence Journal-World. All rights reserved. This material may not be published, broadcast, rewritten or redistributed. We strive to uphold our values for every story published.