Walk into Dave Corliss' office at City Hall and you'll probably notice amid the stacks of documents, law books and other paperwork his collection of campaign buttons.
Some of the buttons come from the original campaigns; others are replicas.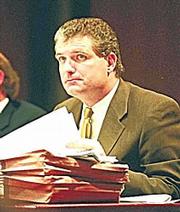 But the collection doesn't betray any hint of whatever political leanings Corliss might have.
"It's bipartisan, notice," Corliss tells a visitor.
Corliss' job as one of two assistant city managers for Lawrence requires that kind of balance: being politically savvy without being, well, political.
"The key issue in working in municipal management is to understand your role," he said. "Our role is to provide sound advice and implement the policy directions of the commission. It only works if the commission sets the policy; staff never should."
Commissioners say Corliss walks the line well.
"From a legal standpoint, he'll tell us when we might want to carefully consider something," Mayor Jim Henry said. "He never tells us what to do."
Corliss calls himself a "terminal Jayhawk," having received three degrees from Kansas University: a bachelor's degree in political science in 1983, a master's degree in public administration two years later and his law degree two years after that.
After a stint with the League of Kansas Municipalities, Corliss joined the city staff in November 1990 as a management analyst and gradually moved up the ranks, becoming assistant to the city manager, director of legal services and, in 2000, assistant city manager.
His responsibilities include coordinating preparation of the city commission agenda, helping prepare the city budget, overseeing the city's legal services, drafting ordinances and keeping an eye on developments at the Statehouse in Topeka in order to defend the city's interests in state legislation.
"The good news for Lawrence residents is they've got a legislative delegation that listens with an earnest ear to City Hall," he said.
And, along with City Manager Mike Wildgen, Corliss is the project manager for Downtown 2000, a development that includes building a new parking garage and a new home for the Lawrence Arts Center.
"One of the good things about municipal management is the variety," Corliss said. "One hour, it's about how to finance construction of a city street. The next, it's about how to handle a public safety issue."
When it comes to drafting ordinances, Corliss walks another line: implementing the wishes of the city commission while trying to make sure the new law is relatively invulnerable to legal challenges.
"Law work is a major portion of city work anymore," Wildgen said. "We try not to take steps without being sure we can take steps."
Corliss' work, Wildgen said, is key to that effort.
"He puts out a lot of product a lot of well-done research and well-done opinions," Wildgen said.
"Dave brings a wealth of knowledge and understanding," Henry said. "He helps me to understand the statutes, or at least achieve a degree of understanding."
Knowing his limits
Corliss said his work and research have helped him realize the limitations of government.
He displays a few lines of poetry on his desk, from Samuel Johnson, to remind himself:
"How small of all
that human hearts endure
that part which kings or laws
can cause or cure."
"We can't solve everybody's problems," Corliss said. "There's a balance between what our role is and what our role isn't."
That means, he said, that family wife Sarah and three daughters is as important as career.
"What I tell my kids at night is the most important thing I do every day," Corliss said.
That said, city work isn't bad.
"I very much enjoy my job," he said. "This is a great community to work in. We've had elected officials who've had very different ideas about the role of government, but they all wanted to leave the city better than they found it."
Copyright 2018 The Lawrence Journal-World. All rights reserved. This material may not be published, broadcast, rewritten or redistributed. We strive to uphold our values for every story published.