The plight of her 9-month-old baby girl on a stormy July night a year ago remains a "nightmare" for Sheena Young, she said.
The infant was dropped in a dumpster and left there as rain, thunder and lightning beat down around her. Young said her innocent daughter was injured, "cold and alone," with no idea why her daddy would possibly want her dead.
Young read a statement Friday in Douglas County District Court at a sentencing hearing for her husband, Marquis J. Young, who was accused of injuring the baby and putting her in a trash compactor at the couple's Lawrence apartment complex.
Marquis Young, 28, initially charged with attempted first degree murder and child abuse in the case, later pleaded no contest to aggravated battery and child abuse, both felonies. On Friday Judge Paula Martin sentenced him to 186 months, or about 15 and a half years, in prison for the crimes.
Young's attorney, Adam Hall, said that the child "is doing very well" now and that the harm inflicted upon her was not long-lived.
Hall also said Young "lacked judgment" due to heavy intoxication and prescription drug use when the crime was committed and did not remember what happened during the night.
"He was mostly a good parent and caregiver for her," Hall said. "... the defendant expressed devastation and fright at the thought that she was missing."
Prosecutor Mark Simpson disagreed with the defense's attempt to downplay the crimes.
Simpson said Young gave the baby two small fractures when she was in his care, and he reiterated that the dumpster she was found inside also compacted trash.
"If people had not intervened, she would have been killed," Simpson said.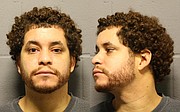 Around 2:30 a.m. July 7, 2016, a resident of the Country Club on 6th Apartments, 2500 W. Sixth St., discovered an infant girl inside the complex's shared dumpster, which also compacts trash, the Journal-World previously reported. The infant suffered two skull fractures, swelling to her eye and scalp and a number of bruises and scratches all over her body.
Sheena and Marquis Young had fought the night before and she left to spend the night with friends, leaving the baby with her husband, who had been drinking, Sheena Young previously testified. The next morning Sheena Young said she spoke with her husband, who couldn't find the infant. She told him to call 911, and investigators soon realized the situation was likely connected to the infant found in the dumpster earlier that morning.

According to a May news release from the Douglas County District Attorney's Office, the baby had recovered from her injuries and was placed with relatives.
The baby was just under 9 months old when the incident occurred. She's now 1 year and 9 months old.
Hall said that Marquis Young's name is on the baby's birth certificate, though he is not her biological father.
Marquis Young has other pending legal cases, including a charge of domestic battery earlier in 2016.
In her statement to the court on Friday, Sheena Young described better times with her husband and the pain of being betrayed.
"I hope you remember when you cut her umbilical cord and proudly showed off your little baby girl," Sheena Young said.
"I hope that you learn from what you've done ... so no human being has to endure physical abuse by someone that they once loved and trusted."
When asked by the judge during Friday's hearing if he had anything to say, Marquis Young said no.
After the judge's ruling, as Sheena Young left the courtroom, a shackled Marquis Young shouted toward her, "I'll never forget, trust me, I'll never forget ... I love [baby's name]."
Contact public safety reporter Sara Shepherd
Have a tip or story idea?
785-832-7187

---

More stories
Copyright 2018 The Lawrence Journal-World. All rights reserved. This material may not be published, broadcast, rewritten or redistributed. We strive to uphold our values for every story published.