A Lawrence man accused of placing his infant stepdaughter in a trash compactor was convicted Monday of two lesser felony charges than the one he originally faced.
A single felony charge of attempted first-degree murder was filed against Marquis Young in July. On Monday prosecutors filed an amended complaint in Douglas County District Court, charging Young with one felony count each of aggravated battery and abuse of a child. He pleaded no contest to the two charges the same day, Jill Spurling, a trial assistant with the Douglas County District Attorney's Office, said in an emailed response to questions.
Young, 28, appeared in court in January for a preliminary hearing where witnesses testified about the incident on July 7, 2016.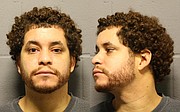 Early that morning, a resident of the Country Club on 6th Apartments, 2500 W. Sixth St., discovered an infant girl inside the complex's shared dumpster, which also compacts trash, the Journal-World previously reported. The infant suffered two skull fractures, swelling to her eye and scalp and a number of bruises and scratches all over her body.
Young's wife, Sheena Young, testified during the preliminary hearing that she and her husband fought the night before. She also said Marquis Young is not the biological father of the infant, though he acted as a parental figure in the relationship.
As their argument continued, Sheena Young said she left the apartment to spend the night with friends. She left Marquis Young, who had been drinking, with the infant.
Sometime later that evening, after he was left alone with the infant, Marquis Young wandered outside the apartment and argued with a neighbor, Lawrence Police Detective Jamie Lawson testified during the preliminary hearing. Eventually the police were called, though officers decided to give Marquis Young "a break" and "told him to go back inside."
The next morning Sheena Young said she spoke with her husband, who couldn't find the infant. She told him to call 911, and soon investigators realized this call was likely connected to the infant who was found in the complex's dumpster earlier that morning.
Later Marquis Young told investigators he couldn't remember what happened during the night, though Lawrence Police Detective Zach Thomas said officers found blood on his shirts that matched the infant's DNA profile.
Young was not immediately arrested in connection with the case. He was, however, arrested in Jefferson County that July after he and Sheena Young were accused of disorderly conduct at Perry Lake. Both were released from jail after posting a bond of $3,000.
Marquis Young was arrested once more that same month after he was accused of battering Sheena Young in Lenexa. He was convicted of that charge and transferred to the Douglas County Jail after serving his sentence so he could face trial in the attempted first-degree murder case.
The infant found in the dumpster has since recovered from her injuries and has been placed with relatives, the Douglas County District Attorney's Office said in a news release.
Marquis Young is currently being held in the Douglas County Jail pending a sentencing hearing, which is scheduled for July 14. Prosecutors said they believed he would be sentenced to at least 15 years in prison.
Copyright 2018 The Lawrence Journal-World. All rights reserved. This material may not be published, broadcast, rewritten or redistributed. We strive to uphold our values for every story published.