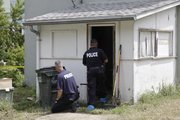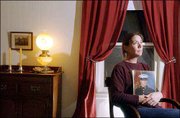 Lawrence police have identified Christine Kaplan, 56, of Lawrence, as the victim of a homicide that was discovered Saturday in East Lawrence.
Douglas County property records indicate Kaplan was the owner of the home at 1117 New York St., where her body was found and where police have been investigating for the past three days.
Stunned neighbors recalled Kaplan as someone who was known for her generosity and the compassion she showed to others.
One neighbor, Shannan Garrett, said she last saw Kaplan on Thursday or Friday. Garrett said Kaplan often provided shelter to people "who needed a place to stay." She said a man had been staying in the house for several weeks.
"She took everybody in," Garrett said.
Kaplan's kindhearted nature extended beyond humans, said one friend. She loved animals too and always had "a bazillion cats" around her home, said Terry Manies, of Lawrence.
Terry Manies met Kaplan five years ago when she and her husband were looking for barn cats to adopt. A friend of Manies introduced her to Kaplan, who gave her "two wonderful cats" that have since become beloved fixtures in the Manies' home.
"Her generosity gave us a debt of friendship that we would never be able to repay," Manies said.
That same generosity sometimes "bit her," Manies said.
She described Kaplan as the kind of person who would want to help anyone, even those who might not be worthy of her trust.
"I think she'd been through quite a bit in life, and that made her want to open up as opposed to shut down," Manies said. "She really did think everybody was a good person."
In 2003, Kaplan was featured in a Journal-World article that detailed the anxieties of civilians in Lawrence with the onset of the Iraq War.
Kaplan's son, Sean Heskew, was stationed in the Persian Gulf with his Marine unit at the time. Less than a month before U.S. troops launched the invasion of Iraq, Kaplan told a Journal-World reporter that the constant worrying made it difficult to sleep at night.
"This is a parent's worst nightmare," Kaplan said in the 2003 article. "I'm just beside myself."
Assembling care packages for her son — often including extra items for his Marine comrades — provided a distracting relief.
Kaplan even co-founded a local support group for parents of children in the military.
But on Monday evening, Kaplan's property remained surrounded by crime-scene tape, with a forensics truck parked outside and investigators working inside the home.
Though KBI vehicles had left the scene Monday morning, Fellers said investigators may continue work there for several days. The investigation has proceeded "very slowly and methodically," Fellers said, as circumstances surrounding the death were not available for more than a day after authorities were called to the scene.
The coroner did not examine the body until late Saturday night, when it was determined that a homicide had occurred, Fellers said.
This is the seventh homicide in Lawrence since July 2013.
Anyone with information about this incident is asked to call the Lawrence Police Department at 832-7509 or Douglas County CrimeStoppers at 843-8477.
Copyright 2018 The Lawrence Journal-World. All rights reserved. This material may not be published, broadcast, rewritten or redistributed. We strive to uphold our values for every story published.