• A 33-year-old Lawrence woman has been convicted of prostitution and aggravated battery after her December arrest on suspicion of engaging in sexual contact with a juvenile. Amy C. Ballin was arrested during a Lawrence police investigation alleging she advertised "sexually oriented services" online, according to police. Originally charged with three counts each of prostitution, indecent liberties, and sodomy, Ballin pleaded no contest Wednesday in Douglas County District Court to three counts of prostitution and one count of aggravated battery, according to court records. She is scheduled to be sentenced on July 2.
• A junior Kansas University football player cited for battery in January reached a diversion agreement with a city prosecutor to dismiss the case. Benjamin D. Heeney, 20, Hutchinson, was issued a municipal citation alleging that he battered an employee at a downtown club after he had been asked to leave. City prosecutors said the alleged victim in the case did not want to cooperate, and the case was dismissed on condition that Heeney perform 20 hours of community service and attend an alcohol education class.
• A 27-year-old Lawrence man was sentenced Tuesday to 45 months in prison after pleading no contest in April to counts of attempted aggravated battery and attempted aggravated intimidation of a witness. Carlos Wodez Ruiz, who was arrested following a Dec. 27 incident in Lawrence, received a 38-month sentence on the battery count and seven months on the intimidation of a witness count. Police did not have details to provide at the time of the incident, but prosecutors in court Tuesday said Ruiz attacked a person with a knife and a meat cleaver, causing significant injuries.
• A 23-year-old Minnesota man has pleaded no-contest in Douglas County District Court to one count of indecent liberties in connection with an incident involving a 15-year-old girl in December. Brandon Justin Burton was arrested in February after the girl's parents reported the alleged offense to police, and he has remained in Douglas County Jail since then, with bond set at $75,000. Burton was convicted on May 24 and is scheduled to be sentenced on July 12.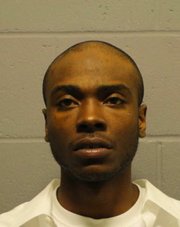 Copyright 2018 The Lawrence Journal-World. All rights reserved. This material may not be published, broadcast, rewritten or redistributed. We strive to uphold our values for every story published.