Lawrence crime, fire, courts coverage
Have a tip?
Contact Journal-World reporter Caitlin Doornbos: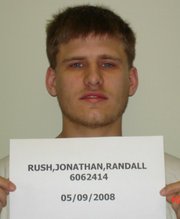 The victim of a fatal shooting Wednesday in Lawrence has been identified as Gary Edens, 51, of Lawrence, police said today.
Two people arrested in connection with the shooting have been booked into Douglas County Jail on suspicion of murder. They could be charged Friday, Douglas County prosecutors said.
Jonathan R. Rush, 28, of Wichita, and Brittny M. Adams, 19, of Topeka, were arrested in southeast Topeka less than an hour after the shooting at 647 Michigan St., which was reported to police about 6:20 p.m.
A neighbor who performed CPR on Edens said the man had suffered a gunshot wound to the head. Edens was transported to Lawrence Memorial Hospital, where he was pronounced dead, according to police.
The owner of the residence, James Dunn, said Edens had lived there since January. Two sons were at home with Edens when he was killed, Dunn said, including an adult and a child. Edens had formerly lived in Leavenworth, according to court records.
Rush has a criminal record in Shawnee County, having been convicted of criminal possession of a firearm in 2005 and attempted robbery in 2007. Adams is facing charges of theft and obstruction in Shawnee County and was free on a $5,000 bond.
Copyright 2018 The Lawrence Journal-World. All rights reserved. This material may not be published, broadcast, rewritten or redistributed. We strive to uphold our values for every story published.