A man was shot and killed in Lawrence on Wednesday evening, and two people were arrested in Topeka in connection with the crime.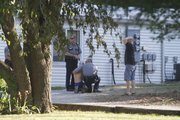 The shooting reportedly took place about 6:20 p.m. at a residence at 647 Michigan St., according to a Lawrence police spokesman.
Police have not identified the victim, only saying that he was a 51-year-old Lawrence resident. But a neighbor who said he performed CPR on the victim described him as a man who lived in the residence with his son.
Alex Hormell, 53, who lived next door, said the victim's distraught son told him that a man had knocked on the door before the shooting.
Police Capt. Steve Zarnowiec said police were in the early stages of investigation, as crime scene tape went up in the area.
According to the Shawnee County Dispatch Center, two people, one male and one female, were arrested in southeast Topeka at 6:41 p.m. in connection with the shooting. Late Wednesday evening, Lawrence Police Department detectives were questioning the suspects.
Hormell said he did not hear the shooting, but ran over to the residence where it occurred when he heard shouting.
He found his neighbor lying near his front door, apparently shot in the head, just behind his left ear. Hormell began performing CPR. Several people gathered around, including the victim's son.
"They were screaming and yelling, 'Where's the ambulance?'" Hormell said. "But nobody was tending to him, so I started doing chest compressions on him."
Hormell said he didn't think his efforts were working, but a police officer who arrived said he had found that the man had a pulse.
The man died a short time later. "There was a lot of blood," Hormell said.
Zarnowiec, speaking at the scene, said, "We have one deceased individual. That individual is a Lawrence resident. We do have potential suspects at this time, and that's all the information I can share with you at this time. We're continuing to investigate. As we investigate, we'll know more about what occurred."
Hormell said he had no idea why someone would want to shoot the man. They had gotten to know each other over small talk at the mailbox, he said, but he didn't know much about his neighbor. Once, Hormell and his son had helped the neighbor with a broken-down car.
Anyone with information about the crime is asked to call the Lawrence Police Department at 785-832-7509 or CrimeStoppers at 785-832-TIPS.
Copyright 2018 The Lawrence Journal-World. All rights reserved. This material may not be published, broadcast, rewritten or redistributed. We strive to uphold our values for every story published.