Photo Gallery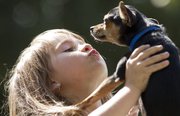 Dogtoberfest
Dogs and their owners spent the afternoon in South Park on Oct. 9, 2011, as part of a benefit for the Lawrence Humane Shelter and Lawrence Community Shelter.
It was a dog lover's paradise Sunday in South Park.
Everywhere you looked there were dogs of all ages, colors, shapes and sizes. Dozens wore costumes, and at least one had her nails done. That was a 4-year-old poodle named Brie who was rescued from the Topeka animal shelter. She was in the Halloween spirit with candy-corn colored nails and ears, and a rear end that looked like a pumpkin.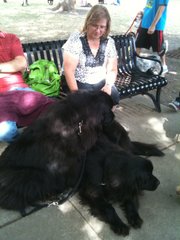 She received a lot of attention at the second annual Dogtoberfest in Lawrence, where there was live music, food, and vendors selling everything from collars and leashes to treats and beds. There also were educational booths about dog rescue organizations and pet health. The Lawrence Humane Society had a booth where three dogs were waiting to be adopted, and at least one — a basset hound named Buddy — found a new home.
Jen Frazier, event coordinator, estimated about 400 people attended the five-hour event, which began with a blessing of the animals and included contests like best kisser, tail wagger, canine karaoke, and trick.
"I love seeing the best trick contest to see just what all of the dogs are capable of doing and what people think of," Frazier said.
Best trick went to 2-year-old Toto, who did the cha-cha with his owner, Margene Swarts, of Lawrence. Last year, Toto was the best tail wagger.
"I just went out to the shelter, and he picked us," Swarts said of her four-legged friend. "He's very personable and obedient." Besides sitting and lying down on command, he gives a high-five.
Two Newfoundlands — a mother and her son — were getting a lot of attention as they rested in a shady spot with their owners, David and Kathy Freed, of Lenexa. People were stopping to take pictures and pet them.
"They love the attention," David Freed said, especially the mom, named Chance, who weighs about 110 pounds.
"She is wonderful and doesn't make a sound," David Freed said.
He educated passersby about the dogs, which he said are excellent for water rescues due to their muscular build, thick coat and swimming abilities. He said they enjoy playing in the snow and going to dog day care.
Across the park, 6-year-old Lily Payne was enjoying a purple snow cone as her dog named Jesse looked on. Her parents said she's had the dog, a cross between a ridgeback and German shepherd, her entire life.
So, what do these lifelong friends do?
"He takes me for a walk," she said with a grin, and after some more thought added: "When I have food around — he begs."
Sunday's event raised funds for both the Lawrence Humane Society and the Lawrence Community Shelter.
Copyright 2018 The Lawrence Journal-World. All rights reserved. This material may not be published, broadcast, rewritten or redistributed. We strive to uphold our values for every story published.