No arrests have been made in either of two area bank robberies from last week, said FBI spokesman Joel Sealer.
"There's nothing new to report," Sealer said.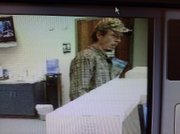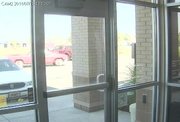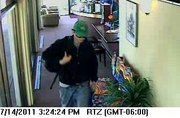 The first bank robbery occurred July 14 at Central National Bank, 603 W. Ninth St. A man walked into the bank in the afternoon and demanded money from a teller. No one was injured. Police have released this description of the suspect:
White male, mid-20s, about 6 feet tall, with brown hair, who wore a green cap, blue jeans and a black zip-up coat. Surveillance footage from the bank caught images of the man, but the man's cap obscures a clear picture of his face.
The other robbery occurred on July 15 at the Great Southern Bank, 2040 South Princeton St. A man gave the teller a note demanding cash and threatened the teller with a weapon, although no weapon was shown, she said. No one was injured.
Police released this suspect description:
White male with a goatee, brown hair, thin build, in his mid-30s, 5 feet 7 inches to 6 feet tall. He wore a camouflage ball cap, dark plaid shirt with a brown T-shirt underneath that had an unknown design on the chest and dirty blue jeans. The surveillance footage from the bank does catch the suspect's face in several images.
The suspect fled the bank's property in an older model red pickup truck. A white female with dirty blonde hair was in the passenger seat, witnesses said, and the truck was headed toward Interstate 35. Ottawa police described the truck as a 1970s to 1980s model Nissan or Toyota.
Anyone with information in either case is asked to call the FBI at 816-512-8200.
Copyright 2018 The Lawrence Journal-World. All rights reserved. This material may not be published, broadcast, rewritten or redistributed. We strive to uphold our values for every story published.