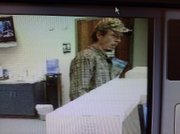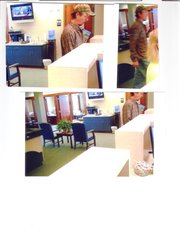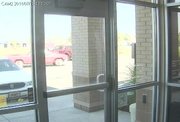 FBI agents are investigating a bank robbery reported Friday morning in Ottawa.
Bridget Patton, an FBI spokeswoman in Kansas City, said the robbery was reported at 10:10 a.m. at Great Southern Bank, 2040 South Princeton St.
A man gave the teller a note demanding cash and threatened the teller with a weapon, although no weapon was shown, she said. No one was injured.
Patton described the suspect as a white male with a goatee, brown hair, thin build, in his mid-30s, 5 feet 7 inches to 6 feet tall. He wore a camouflage ball cap, dark plaid shirt with a brown T-shirt underneath that had an unknown design on the chest and dirty blue jeans.
The suspect fled the bank's property in an older model red pickup truck. A white female with dirty blonde hair was in the passenger seat, witnesses said, and the truck was headed toward Interstate 35. Ottawa police described the truck as a 1970s to 1980s model Nissan or Toyota.
It is the second area bank robbery investigation for the FBI in two days after a man walked into Central National Bank, 603 W. Ninth St., Thursday afternoon in Lawrence and demanded money from tellers before receiving cash and leaving the bank on foot south on Louisiana Street. No one was injured.
Patton said the Lawrence suspect had his hand in his pocket indicating he had a weapon, but no weapon was shown.
Lawrence police describe the suspect as a white male, in his mid-20s, about 6 feet tall, with brown hair, wearing a green cap, blue jeans and a black zip-up coat.
Patton said it was too early to tell if the Lawrence and Ottawa robberies are connected.
"We always look to see if there's any type of connection," she said.
Bank robbery is typically a federal crime because nearly all banks and credit unions are insured by the Federal Deposit Insurance Corp.
Anyone with information in either case is asked to call the FBI at 1-816-512-8200.
Copyright 2018 The Lawrence Journal-World. All rights reserved. This material may not be published, broadcast, rewritten or redistributed. We strive to uphold our values for every story published.