Photo Gallery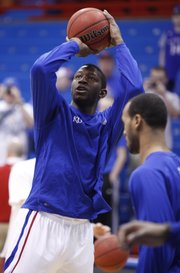 KU vs. Iowa State
Press Conferences & Post-Game Interviews
KU coach Bill Self
Kansas coach Bill Self talks to reporters following the Jayhawks' 89-66 victory over Iowa State on Feb. 12, 2011.
-->
Scoreboard watchers cheered wildly during the first TV timeout of Saturday's Kansas-Iowa State basketball game in Allen Fieldhouse.
That's when it was revealed to 16,300 fans that No. 1-ranked Ohio State had fallen at No. 13 Wisconsin, meaning the No. 2-rated Jayhawks — if they took care of business against the Cyclones — on Monday assuredly would move to the top spot in the AP poll.
"During the game, we looked up and saw it when everybody else saw it," KU junior Marcus Morris said after scoring 16 points and grabbing 11 rebounds in the Jayhawks' runaway 89-66 victory.
"It did, definitely it did," Morris added, asked if thoughts of becoming No. 1 registered in his brain. "Hopefully we'll be No. 1 by Monday. There's a lot of talk they might put Texas at No. 1, but I don't see how."
The No. 3-ranked Longhorns (22-3) are sure to receive some first-place votes from those who place stock in the fact UT handed KU (24-1) its only loss of the season — 74-63 on Jan. 22 in Allen.
It's logical to assume, however, most voters will merely advance the runner-up team one rung on the ladder.
"I want to be No. 1," Morris said after a game in which four Jayhawks scored in double figures (Markieff Morris, Tyshawn Taylor 14 apiece and Brady Morningstar 13) en route to a 51.6 percent shooting effort.
The Jayhawks, who cruised to a 33-12 lead, were never threatened on a day ISU hit 14 of 32 threes.
"I want to get everybody's best shot because I think we can take it," Morris added. "T-Rob (Thomas Robinson, out two weeks following meniscus surgery) did go out, but I think other guys are going to step up. I kind of want that chip on our shoulder to go out and show people why we are No. 2 in the nation and why it's not a fluke we are going to be No. 1."
Morris certainly was enthusiastic regarding the topic of No. 1.
"I don't think we're going to be feeling ourselves a little more (heading into Monday's 8 p.m. game at Kansas State). I think it's just going to mean we need to play harder to keep us there," Morris said. "We're just ready. I feel like we've practiced so hard. We've gotten better. We're ready."
KU junior Tyshawn Taylor, who had best offensive game since a 15-point outing against UMKC on Jan. 5, said ultimately being No. 1, "doesn't matter. We were No. 1 all of last year, too, and don't have anything to show for it so ... I guess it's nice, cool to be No. 1, but it doesn't really matter."
The Jayhawks, who were preseason No. 1 a year ago, kept the ranking for eight straight weeks. KU was No. 1 all but four weeks in a season in which the Jayhawks won the Big 12 regular season title, but lost in the second round of the NCAAs.
"I think last year we kind of took No. 1 for granted a little bit and came out there like, 'Ah, we know it's going to continue,''' Taylor said. "I think being with guys who have been through that and know how that team was last year and know how it feels to lose being No. 1 and it being over that fast … I feel we won't let that happen. We don't want to feel that again. We know when it comes down to it, we're not going to go home sad."
KU coach Bill Self doesn't want to hear any talk about his team being better able to "protect" the top ranking this year.
"We were No. 1 last year all but two, three weeks. We protected No. 1 pretty well," Self said. "Whenever you say 'guard' something, I think it's almost defensive mode trying to hang onto something. We need to be in attack mode no matter what.
"If it happens, it doesn't mean anything. Somebody has to be No. 1. If it happens, then I think it adds to the excitement going to Manhattan (Monday). Texas was No. 1 going in there last year and got a knot put on 'em. It adds to the game which will probably make it a little more adrenaline in the building."
Time will tell if KU, as expected, holds off Texas for the No. 1 ranking and how KU will react as No. 1 on Monday night.
"We go into every game knowing this team is capable of beating us," Morris said. "That's how we approach every game. That's what coach says in the huddle. We know no matter who it is, they are capable."
Copyright 2018 The Lawrence Journal-World. All rights reserved. This material may not be published, broadcast, rewritten or redistributed. We strive to uphold our values for every story published.