Photo Gallery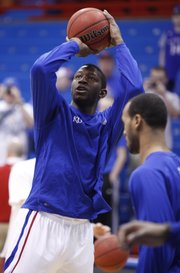 KU vs. Iowa State
Press Conferences & Post-Game Interviews
KU coach Bill Self
Kansas coach Bill Self talks to reporters following the Jayhawks' 89-66 victory over Iowa State on Feb. 12, 2011.
One month after playing Kansas University within five points in a loss in Ames, Iowa, Iowa State men's basketball coach Fred Hoiberg on Saturday got a better look at the team that might wind up ranked No. 1 in the country in Monday's polls.
The result? An 89-66 drubbing by Kansas University that left Hoiberg in a complimentary mood.
"This Kansas team is great," Hoiberg said. "Especially the way they're playing right now. … They're big, they're strong, they're physical, they shoot the heck out of it. Other than that, they're not that great."
In improving to 24-1 on the season, 9-1 in Big 12 play, the Jayhawks flashed a little of each of those traits during the 37-14 start that all but buried the Cyclones. Marcus and Markieff Morris combined for 18 of KU's first 37 points — each hit one bucket from three-point range — and six Jayhawks scored in the onslaught that forced Hoiberg's crew out of its game plan.
"We had three big keys," ISU's first-year coach said. "Take care of the basketball, get back in transition and match their physical play. And we went out and turned the ball over, and you just can't do that against this team. They make you pay more than any other team when you turn the ball over."
That was the idea from the Iowa State side of things. As for ISU's plan to limit Kansas?
"We wanted to try to make 'em beat us from the outside and not let the Morris brothers get established down low and dominate like they did the first game against us," junior guard Scott Christopherson said. "But, you know, they kind of did whatever they wanted."
Kansas shot 52 percent from the floor, including 56 percent in the first half. The Jayhawks hit nine of 27 three-point attempts, with four in the first half, when the Jayhawks built a 45-26 halftime lead.
ISU fared much better the longer the game went on. Led by Christopherson's 16 points, the Cyclones shot 46 percent in the second half, including 8-of-16 from behind the arc. Offense, Christopherson said, was not the problem.
"We gotta do a better job in the first five or six minutes of not letting teams get so comfortable," Christopherson said.
"We've had lots of guys go off against us, and I don't think it's a coincidence that every team has a guy that has a great shooting night against us. I think it's just that we need to impose a little more defensive will."
Hoiberg, who visited Allen Fieldhouse four times during his days as a standout guard for the Cyclones, said there was another factor at play, one for which teams can't really prepare.
"The energy in this building is like none other," he said. "It's as good a place to play and one of the best venues in all of sports."
Because of that, as well as their depth and balance — KU won by 23 without two of its top seven players — the visiting team also had no problem calling Kansas one of the top squads in college basketball.
"That's the best team we've played so far, by far," Christopherson said. "We haven't played Ohio State, we haven't played some of the other teams, but I think there's probably four or five teams a little bit ahead of everybody else, and I think Kansas is one of those teams."
Copyright 2018 The Lawrence Journal-World. All rights reserved. This material may not be published, broadcast, rewritten or redistributed. We strive to uphold our values for every story published.