Photo Gallery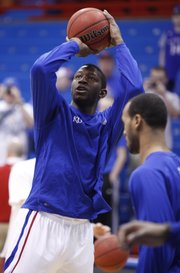 KU vs. Iowa State
Press Conferences & Post-Game Interviews
KU coach Bill Self
Kansas coach Bill Self talks to reporters following the Jayhawks' 89-66 victory over Iowa State on Feb. 12, 2011.
Less than a year ago, as he was discussing in his plush office what he looks for in players when deciding whether to offer them a scholarship, Kansas University basketball coach Bill Self addressed the human aspect of the athletes.
"What fits me are personalities," Self said. "I don't like coaching duds, I'll be the first to tell you. Give me a guy you can joke with and have some fun with. That's one reason I love coaching the twins. They're really funny. They'll say things during games that crack me up. I like guys with personality and (who) are a little rough around the edges."
Sometimes, the Morris twins and Tyshawn Taylor, the liveliest personalities on a colorful team, even say funny things during postgame news conferences. Saturday, after a ho-hum, 89-66 obliteration of Iowa State, was one such day.
They're never dull, which usually, not always, but usually, is a good thing that adds to their appeal.
The line of questioning had just turned to Monday's trip to Manhattan to take on Kansas State, a basketball team that transformed into a drama-packed reality show somewhere along the way, rife with suspensions and defections. Taylor was asked: Has he followed the drama?
"I mean, I'm not like on my computer looking it up, but it's on ESPN a lot, so I see it, and I notice it. People tell us about it, so it's hard not to know what's going on, but I mean, my name scrolled across the bottom of ESPN a couple times, too, so I mean, they'll be fine," Taylor said with a smile, remembering his days of football fights and Facebook posts. "They're going through some stuff like most teams do."
He showed he can laugh at himself and wasn't about to laugh at K-State for what it has experienced just one season after making it to the Elite Eight with underclassmen doing most of the heavy lifting.
Taylor had reason to be in such a light-hearted mood. He had just played a terrific game, preventing Iowa State star Diante Garrett from penetrating and basically making him a complete nonfactor. Unlike in his previous two games, Taylor also stopped rushing his floater shots and produced 14 points on 6-of-11 shooting, four of the misses on three-pointers.
Marcus Morris, fresh off a dominant, stat-stuffing performance that included 16 points and 11 rebounds, also entertained the audience during the postgame media session. He teamed with Kansas State star Jacob Pullen on a national team during the summer, forming a friendship that has led them to stay in regular contact.
"He's just a good friend," Marcus said of Pullen. "We talk about our years. We talk about our coaches."
At that point, Morris tried and failed to contain his laughter. Some, but not all, of his mischievous grin was inspired by the image of volcanic K-State coach Frank Martin popping into his head.
"We talk about a lot of stuff," Morris continued. "I don't say anything bad. But I just talk about his coaches. He talks about how Frank is. I talk about the difference between them (Martin and Self). We just compare our coaches. I tell him coach (Self) just doesn't do it as much on the court as Frank does. Frank is just so emotional on the court, but coach Self, he waits until we get behind closed doors. That's when he do what he do."
The next voice belonged to press-conference moderator Chris Theisen, the athletic department's sports information director.
"All right guys, thanks so much," Theisen said, signaling the end to the session.
Whatever it is Self does "when he do what he do," with colorful language delivered at high volume, it works. For the first time this season, Kansas likely will be ranked No. 1 when the polls are released Monday, putting an end to Ohio State's four-week run that followed Duke's 10-week stay on top.
Kansas (24-1) spent most of last season ranked No. 1 in the nation and then lost its best player, Sherron Collins, plus a pair of NBA lottery selections, Cole Aldrich and Xavier Henry. KU is 57-4 in the past two seasons, a record compiled using just one player (Collins in 36 of those games) who played more than four minutes of the 45-minute national-title victory against Memphis in 2008. That's no joke.
Copyright 2018 The Lawrence Journal-World. All rights reserved. This material may not be published, broadcast, rewritten or redistributed. We strive to uphold our values for every story published.