Photo Gallery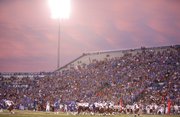 KU vs. Texas A&M
Gill laments no timeout
Though he has shown throughout the course of the season that he'd rather error on the side of caution when it comes to calling timeouts, Kansas University coach Turner Gill said after Saturday's 45-10 loss to Texas A&M; there was a point in the game where he wished he would have called one.
Trailing 24-10 and driving inside A&M;'s red zone, KU quarterback Jordan Webb threw an interception at the goal line after attempting to play through a shoulder injury which he suffered on the previous play. The pick was returned 83 yards to the KU 17, and three plays later A&M; scored to open a 31-10 lead at the half.
"I saw he was a little bit hurt," Gill said. "He's a tough young man. He gets up and kind of shakes it off, and you kind of think the guy's OK. (As) I look back at it, I probably should've taken a timeout to really know what was happening at that particular time. But you make decisions, and that's the way it goes sometimes."
The interception was the last play of the game for Webb, who sat out the final two quarters due to a shoulder injury.
Hutchinson LB commits
Rivals.com reported Saturday night that Hutch High's Ben Heeney, a 6-1, 195-pound linebacker visiting KU on Saturday, chose to commit orally to the Jayhawks during the game.
Heeney, a three-star recruit, becomes the 16th player to commit to Gill's first complete recruiting class. He is the third linebacker on that list.

Sands a fourth-down back?
Early in the third quarter, after a huge fourth-down sack from freshman Tyler Patmon, KU had a chance to crawl back into the game and was in A&M; territory when a drive stalled after a failed fourth-down attempt.
The call, on fourth-and-one, was for red-shirt freshman Deshaun Sands to run the ball up the middle for the necessary yard. Instead, Sands never got past the line of scrimmage.
Asked after the game if it seemed odd to ask the 5-foot-7, 190-pound running back to convert in short yardage instead of giving the ball to starter Angus Quigley (6-1, 231) or backup James Sims (6-0, 206), Quigley did not second-guess his coaches.
"Of course I'd like to be in on fourth-and-one," he said. "But I'm fully behind whatever the coaches think. I don't have any place to question what goes on. I never have, and I'm not gonna start now."
Laptad finally gets a sack
Senior defensive end Jake Laptad, KU's sack leader during each of the past two seasons, finally broke through with his first sack of 2010 on Saturday.
In addition to being his first of the year, the sack pushed Laptad into fifth place on KU's all-time list. With 17.5 sacks in his career, Laptad moved ahead of Dana Stubblefield and Nate Dwyer, who each had 17 in their careers.
This and that ...
For the first time this season, the Jayhawks did not use their new inflatable tunnel when taking the field prior to kickoff. … KU also elected to let the yell leaders carry out the KU flags instead of asking a player to do it.
Copyright 2018 The Lawrence Journal-World. All rights reserved. This material may not be published, broadcast, rewritten or redistributed. We strive to uphold our values for every story published.