Photo Gallery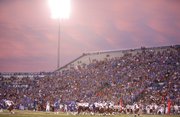 KU vs. Texas A&M
In his first start at defensive end, Kansas University sophomore Toben Opurum contributed six tackles, one pass breakup and a quarterback hurry.
Not bad for someone who has been playing the position full-time for a little more than two weeks.
"I'm confident in my abilities that I can rush the passer, that I can play the run," Opurum said after KU's 45-10 loss Saturday to Texas A&M.; "I think I can be a successful defensive end, if that's what they ask of me."
Though Opurum was moved from running back to linebacker a few weeks before the season, he also had been worked in as a defensive end for pass-rushing situations.
The 6-foot-1, 240-pound native of Plano, Texas, was switched exclusively to defensive end before Kansas' game against Kansas State.
"I know for a fact it's not permanent," Opurum said. "It's just a temporary fix for a problem that we have right now. We've got to get a lot more pressure on the quarterback, and I think today, as a team, we got a lot more pressure on the quarterback."
Opurum learned he would be a starter at a practice this week after talking to defensive-line coach Buddy Wyatt, who told Opurum he wanted to see how he'd perform with the first-team defense.
"I can say from playing three positions in Div. I football, defensive end is definitely the least amount of thinking you have to do," Opurum said. "I think that helped me pick up on it a lot faster than I did at linebacker. I was doing well at linebacker, too, but the coaches see I can help out at defensive end."
KU coach Turner Gill said Opurum was moved to D-end to give the Jayhawks more speed off the edge.
Opurum wouldn't have to put on more weight if he were to stay at the position. Already, he said he weighed more than some of the defensive ends at practice with him.
"You have the same goal (at defensive end): Whoever gets the ball, you've got to bring them down," Opurum said. "That's the goal of the defense. So it's really not much of a big difference to me."
Collectively, KU's pass rush was much improved Saturday, posting two sacks and six quarterback hurries.
In their previous two games, the Jayhawks had combined for no sacks and just one quarterback hurry.
"It was good getting back there," said KU defensive end Jake Laptad, who recorded a sack and two quarterback hurries. "We just had to make more plays than we did."
Copyright 2018 The Lawrence Journal-World. All rights reserved. This material may not be published, broadcast, rewritten or redistributed. We strive to uphold our values for every story published.