Photo Gallery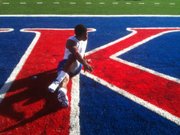 KU vs. Kansas State
Historic beating
Kansas' loss to Kansas State on Thursday night was KU's second-worst defeat in the 108-game history of the Sunflower Showdown.
KU's worst loss to Kansas State, which also took place in Lawrence, was a 64-0 beating in 2002. That year's Jayhawks finished 2-10.
Injury update
Starting right guard Sal Capra injured his right leg with around nine minutes to play in the third quarter and did not return to the game. After being helped off the field and taken to the locker room, Capra returned to the KU sideline with three minutes left in the third, but did not come close to going back in.
After the game, coach Turner Gill said Capra had an ankle injury and would be evaluated further today.
In addition to Capra's injury, starting cornerback Chris Harris tweeted after the game that he suffered a concussion on the KU defense's first play of the night. Harris finished with two tackles.
This and that...
Senior punter Alonso Rojas was the flag-bearer for Thursday's game. Rojas led the team through the tunnel and onto the field with the giant Jayhawk flag in hand.... With 11:33 left in the first quarter, before KU's second possession, the video board featured a Late Night in the Phog promo, complete with a message from men's basketball coach Bill Self. As expected, the crowd loved it.... Former KU athletic director Lew Perkins took in Thursday's game from the suites, and Big 12 Commissioner Dan Beebe watched from the press box.... Saturday's game kicked off just before 6:45 p.m. and was played under clear skies. Temperature at kickoff was 73 degrees, with a light wind of 7 mph out of the southwest.
Copyright 2018 The Lawrence Journal-World. All rights reserved. This material may not be published, broadcast, rewritten or redistributed. We strive to uphold our values for every story published.