Photo Gallery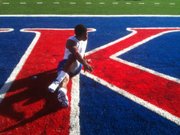 KU vs. Kansas State
For the past eight seasons, Kansas University had a fat football coach. This season, the Jayhawks have too many fat players. So far, given the choice, I'll take the fat coach.
KU doesn't look like a football team. Too many players have gained substantial weight since last season, and it's not muscle-weight. They look so immobile. By halftime, they're so gassed they walk into the locker room when other teams sprint.
KU doesn't play like a football team. It doesn't execute blocks, and players too often appear to be way out of position on defense, a contributing factor in so many missed tackles.
If it doesn't look like a team or play like one, that raises the question: Does it prepare like one? Do the players sneer and growl through hours and hours of uncomfortable running, hitting and being hit? Are they dragged out of their comfort zones regularly in order to grow? If you have to ask ...
This is a kinder, gentler football team. There is no cursing in practice, but there no doubt was plenty in the Memorial Stadium stands, which started emptying in the second quarter of Thursday night's 59-7 mismatch. Empty seats always speak louder and sting harder than boos.
Kickoff was at 6:40, and the game was over by 7:30, leaving the players 2 1/2 hours to visit with their girlfriends, but they didn't. The players didn't leave the field. They stayed and took their beating. Give them credit for that and little else.
With six minutes left in the third quarter, a woman in row 30 had seen enough and pulled out her crossword puzzle. If the answer for 2 across wasn't "hopeless," it should have been.
An argument could be made that this game was won when Kansas fired strength-and-conditioning coach Chris Dawson and Kansas State hired him. The Wildcats don't have much speed, a weakness exposed by Nebraska, but their players look well conditioned. To the eye, they looked in far better shape than many KU players.
Letting Dawson go was one of the many mistakes made in the wake of Mark Mangino's forced resignation. Bringing in an entire new coaching staff meant too much time was spent evaluating talent. Keeping one coach on each side of the ball could have put Turner Gill's staff on a speedier learning curve in the spring. Keeping Dawson, a big believer in excessive running to train the mind and body, would have resulted in a better-looking, better-performing football team.
The Kansas coaching staff had five more days to prepare for this one than the K-State staff, and look what happened. Not good.
Look at the bright side: Kansas coaches won't have any trouble convincing recruits they can earn immediate playing time. Gill signed a five-year, $10 million contract. At this rate, it's worth wondering how many recruiting classes he'll get to recruit. With a new athletic director coming in, anything is possible if the team doesn't become more competitive. Anything.
On the sidelines, players could be seen looking into the stands waving at relatives, and that lack of focus spilled onto the football field. Kansas turned it over three times, K-State once, which makes KU minus-7 on the season in turnover margin.
"This season we've literally shot ourselves in the foot in every way possible," senior co-captain/running back Angus Quigley said.
Well, not literally. That would be Plaxico Burress, and that was the thigh, not the foot. But Quigley, while making sure to voice proper respect for Kansas State, made a good point in stating that Kansas keeps beating itself. Losing by a combined score of 114-14 to Baylor and Kansas State in the past two weeks, the Jayhawks had one take-away and seven turnovers.
"I'm still here to get this thing turned around," Gill said. "How long it's going to be, I don't know, but we will get this thing turned around. We have a tremendous staff, like you always hear me talk about, so we've got the right people here, and we will get this thing turned around. It might take a little longer than we expected, but we will get this turned around."
Gill keeps voicing confidence in the long-range plan, but with each weak week, the words ring more hollow.
Copyright 2018 The Lawrence Journal-World. All rights reserved. This material may not be published, broadcast, rewritten or redistributed. We strive to uphold our values for every story published.