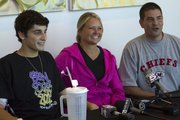 How to help
A fund designed to help Trevor Roberts pay medical bills and other bills associated with his injury has been established at First State Bank and Trust, which has locations in Lawrence at 609 Vt. and 3901 W. Sixth.
Saturday afternoon, Kansas University football coach Turner Gill made 17-year-old Trevor Roberts' day with a phone call and message.
Though Roberts was thrilled to hear from KU's first-year coach — and insisted on replaying the message for anyone who would listen — the message was nothing compared to what Gill delivered Saturday night to the young man from McLouth who lost his left leg above the knee after suffering complications from a football injury.
"When coach Gill and Trevor finally talked on Saturday night, he said he wanted the whole family on the sidelines for the Kansas State game," Roberts' older sister, Ashley Theroff, said.
Considering that Theroff was in charge of purchasing the 19 T-shirts for the family to wear to a recent McLouth High football game, she knew exactly what an incredible gesture that was.
"When my stepdad got on the phone with coach Gill to talk about the details, he asked him how many we had in the family," said Theroff, one of seven children belonging to Roberts' legal guardians Jerrad and Lisa Humerickhouse, who are KU season-ticket holders. "At first he said, 'Four or five?' And Jerrad said, 'Welllll.' After that, coach Gill said, 'Eight or 10?' And Jerrad said, 'Welllll.' I think they left it with coach Gill telling Jerrad to figure out the number, and they'd take care of the details on Monday."

The days since the injury have been a whirlwind for Roberts, who, after fighting for his life in a hospital bed for a couple of days, bounced back to attend his homecoming Friday in McLouth, where he was crowned homecoming king.
Roberts' family said the support shown by so many had been a wonderful distraction.
"I think he's really, really enjoyed that," Theroff said. "And it's been kind of a good thing for him. I think it's been a real positive spin on everything that's happened."
Copyright 2018 The Lawrence Journal-World. All rights reserved. This material may not be published, broadcast, rewritten or redistributed. We strive to uphold our values for every story published.