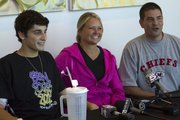 How to help
A fund designed to help Trevor Roberts pay medical bills and other bills associated with his injury has been established at First State Bank and Trust, which has locations in Lawrence at 609 Vt. and 3901 W. Sixth.
Trevor Roberts remembered thinking at first that the injury would mean no more football this year. He said he didn't initially realize it meant he'll have to miss basketball and track, too.
After a compound fracture suffered in a football game got infected with gangrene, the McLouth High senior had his leg amputated on Thursday.
But, sitting by his two legal guardians as his girlfriend looked on, the 17-year-old Roberts was the one doing most of the smiling as he fielded questions from the media on Wednesday.
After three surgeries in five days, he said he was scared when he was told by a doctor his infection could mean he'd lose either his leg or his life.
Just like being down in football, though, he knows his recovery from this point on will take mental and physical toughness.
"It's pretty much the same with this," Roberts said. "I know I'll pull through. Everything will be OK."
The wide receiver and cornerback had been having a pretty good day on the field before suffering his injury. He'd returned a kickoff 80 yards for a touchdown, and had added two receiving touchdowns on top of that, accumulating 193 total yards in the first half.
He still didn't know whether he'd be released in time to take his place on the McLouth High School homecoming court for Friday night's homecoming game.
Roberts and his two guardians — Lisa and Jerrad Humerickhouse — thanked the community for the outpouring of support they'd received, from the cards, visits and signs people have made.
"I've broken about all the rules," for visiting hours, Roberts said, saying he's had people stopping by his room until midnight sometimes.
Lisa and Jerrad didn't hesitate when asked who the strong one was; they quickly pointed in Roberts' direction. He's been the one who makes his visitors laugh, they said, and who's been quick to put everyone at ease.
"I appreciate it all," Roberts said of the support he's received.
Copyright 2018 The Lawrence Journal-World. All rights reserved. This material may not be published, broadcast, rewritten or redistributed. We strive to uphold our values for every story published.