KU vs. Valparaiso
Photo Gallery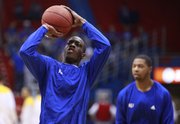 KU vs. Valparaiso
Press Conferences & Post-Game Interviews
KU coach Bill Self
Kansas coach Bill Self talks to reporters following the Jayhawks' 79-44 victory over Valparaiso on Nov. 15, 2010.
Valparaiso guard Howard Little didn't say much to his cousin, Mario, when the two were on the court together during Kansas University's 79-44 victory Monday night.
A smile worked just fine.
"I knew he was thinking it, and I was thinking the same thing, like, 'Man, we're here,'" Howard said. "Our goal was to make it to the Div. I level. We made it, so that's the best thing about it. I know we're making our family proud."
For a few possessions, the KU senior Mario was matched up against Howard defensively. Another time, the two were next to each other on a free-throw attempt.
"I walked up to him and said, 'It's on.' I don't know if he even heard me," Mario said. "I wanted to make sure he didn't have bragging rights at the family reunion."
The two grew up about a 20-minute drive apart in Chicago. They also played on the same AAU team — the Illinois Warriors — for four years in high school.
Howard admired Mario's passion for basketball growing up.
When the two were together, Howard said Mario always had a photo of NBA great Michael Jordan with him. Mario cut out a photo of his own face and placed it over Jordan's.
Howard said Mario carried the picture everywhere — a memento he'd had since he was 4 or 5.
"That was his thing," Howard said. "I loved him for it. I'm like, 'You have a drive, man, and that's what I want.'"
Howard gave his Valpo teammates a short scouting report on Mario earlier in the week, telling them he was a strong player with a good vertical leap.
Mario ended up scoring nine points on 4-for-5 shooting.
"It's the same Mario," Howard said. "His little jab fake, jumpshot on the baseline, that's his shot. Going to the hole with his tongue out, just like Jordan ... I saw him, I was like, 'He's trying to do his little Jordan thing.'"
Mario went to see his cousin before Valpo's practice Sunday night. The two texted before the game, dishing out a bit of trash talk.
"We (Valpo) weren't going to back down, which we didn't," Howard said, "but they got us pretty bad."
The two also talked in the postgame handshake line, wishing each other luck for the rest of the season.
Howard finished with two points and four rebounds in 19 minutes.
"It's just rivalry. It's family," Howard said. "I love him to death."
Copyright 2017 The Lawrence Journal-World. All rights reserved. This material may not be published, broadcast, rewritten or redistributed. We strive to uphold our values for every story published.