KU vs. Valparaiso
Photo Gallery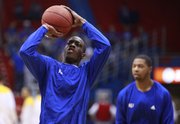 KU vs. Valparaiso
Press Conferences & Post-Game Interviews
KU coach Bill Self
Kansas coach Bill Self talks to reporters following the Jayhawks' 79-44 victory over Valparaiso on Nov. 15, 2010.
His team had just shot .105 from three-point range and .274 overall and was run out of Allen Fieldhouse, 79-44, by Kansas University, the nation's seventh-ranked team.
Afterward, Valparaiso University coach Homer Drew sounded twice as frustrated as even those unsightly numbers would suggest, and it wasn't difficult to determine why: the Morris twins.
Drew was asked about how good Marcus Morris is, and he couldn't contain his answer to just one twin.
"Oh my goodness," said Drew, father of Baylor coach Scott Drew. "Much better than on tape. They just do so much, those two. They're mobile, so they're hard to guard. They can shoot from outside. They power you inside. And when one shoots it, the other one dunks if he misses."
Listening to Drew talk about the twins, a thought occurred, and I decided to write it down before it died of loneliness: Because getting one twin to commit meant landing both, it qualifies as Bill Self's greatest recruiting coup.
"No," Self said. "We recruited the twins less hard than a lot of guys we went after. If you remember, they signed with Memphis, and we were told we couldn't contact them and all that stuff until a certain period of time. So really, their recruiting process, where we were actually visiting with them, was probably less than a month. We put in a lot more time than that on a lot of guys."
Talk about quality time. Two stars for the effort of one.
"I had no idea when we got them they'd end up being this good," Self said. "They've really surprised us in a good way."
Part of what has made the Morris twins better in person to Drew than they looked on film and better players than Self figured they would develop into has to do with intangibles. They have great basketball radar, which makes them exceptional passers, and they make good decisions on when to shoot. In other words, they're extremely smart players, and the nature of AAU ball tends to mask those qualities.
Landing two such mentally and physically gifted athletes with one commitment makes Kansas a contender. So which twin deserves the credit for pulling the trigger on Kansas?
"Marcus," Markieff said. "I wanted to go to Memphis, and then he wasn't really comfortable with it. We sat down and really talked about it. And when we came out of the commitment, Kansas was the school he really liked."
Since Marcus liked it, Markieff opened his mind.
"I just looked more into it, seeing what the Kansas players were like, and we just made a decision," Markieff said.
John Calipari was the coach at Memphis when the twins were released from their commitment. Why did Marcus want out?
"He wanted to come in and play right away," Markieff said. "Memphis had a lot of bigs at the time, and he wasn't really comfortable with going there."
Often, during their first two seasons, when one played well, the other played poorly. That's no longer the case. For the first time Monday, both twins had a double-double, Markieff getting his in just 19 minutes. They were responsible for 34 points, 24 rebounds and another splitting headache for the opposing coach.
Copyright 2018 The Lawrence Journal-World. All rights reserved. This material may not be published, broadcast, rewritten or redistributed. We strive to uphold our values for every story published.