KU vs. Valparaiso
Photo Gallery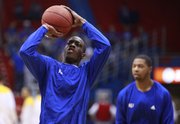 KU vs. Valparaiso
Press Conferences & Post-Game Interviews
KU coach Bill Self
Kansas coach Bill Self talks to reporters following the Jayhawks' 79-44 victory over Valparaiso on Nov. 15, 2010.
In the eyes of Kansas University's basketball players, mid-major Valparaiso University entered Monday's nonconference game a serious threat to the Jayhawks' 60-game homecourt winning streak.
"Coach talked to us. He said, 'They are like Oral Roberts a couple years back,'" junior forward Marcus Morris said of an ORU team that shocked the Jayhawks on Nov. 15, 2006. "Coach said they could come in and be dangerous and hang up a lot of points."
Fully warned, the Jayhawks buried 22 1⁄2-point underdog Valpo, 79-44, in Allen Fieldhouse, sending 16,300 fans home happy and looking forward to Friday's game against North Texas.
A victory would tie the all-time home win mark of 62 straight, set from 1994 to '98.
"I was doing research," basketball historian Marcus Morris said, "and in their (Crusaders') first game, they hung 111 points (against IU Northwest). We knew they could get hot easy and it could be a long night, so we came out and respected them and defended really well."
KU held the Crusaders to 2-of-19 shooting from beyond the arc on a night the Jayhawks throttled Valpo's zone.
Led by Morris, who had 22 points off 10-of-12 shooting, the Jayhawks cashed 53.4 percent of their shots. KU hit five of nine threes the first half (seven of 21 overall) in building a huge 44-27 lead.
"It was a lot of fun to see where we are as a team — to be willing to guard somebody that is expected to shoot threes," Morris said. "We took away what they wanted the most, three-pointers. On offense, we attacked their zone well. We ran our plays to a 'T.'''
Morris wasn't the offensive catalyst during a back-breaking 27-10 run that turned a 14-11 lead into a 41-21 advantage.
Tyrel Reed (11 points, all in the first half off 3-of-4 three-point shooting) scored eight points and Mario Little seven in the surge. Morris was 5-of-7 in the half, good for 12 points.
"I played Tyrel, Marcus and Tyshawn (Taylor) too many minutes in the first half. Therefore our zone offense was good early," said KU coach Bill Self, who played Reed 18 minutes and Taylor and Morris 17. Taylor had three points and three assists the first half, finishing with eight points and five assists.
"We were really moving, and then we were really stagnant. We had guys resting on offense (in the 35-point second half), and that wasn't very good. All in all, we got good looks and executed fairly well. We turned it over carelessly like this team is going to do. It was good to play against a zone. The zone slowed the game down, but we took a lot of good shots against it. We just didn't make the three, but got a lot of good looks."
KU suffered 15 turnovers to Valpo's 12 while outboarding the Crusaders, 47-33 overall, 25-15 the second half.
Markieff Morris scored 12 points and grabbed 10 boards the final half after not scoring and grabbing one board the first 20 minutes.
Valpo scored just 17 points the entire second half, hitting eight of 29 shots and missing all seven three-point tries. Valpo also missed five of six free throws the second half.
"The 17 points was more like 30 or 35," Self said, noting Valpo missed a lot of easy shots. "It was a step in the right direction. It wasn't a gigantic step, but certainly I feel better walking out of here than I did the other night from a defensive standpoint.
"We made some bad plays defensively, but we did guard better. They got a lot of shots they missed that most teams we play will come away with two or three points, but it was better."
Self used his quick wit when asked areas in which smooth Marcus Morris can improve.
"I would say he and Thomas' (Robinson, eight points, 10 boards) and Markieff's low-post defense. Statues guard better at times. Those three obviously have to get better in that area," Self said.
Tipoff for Friday's North Texas game will be 7 p.m.
Copyright 2018 The Lawrence Journal-World. All rights reserved. This material may not be published, broadcast, rewritten or redistributed. We strive to uphold our values for every story published.