Memorial procession
On Thursday, first responders from across the area will gather in Shawnee to pay tribute to John Glaser, who died fighting a fire this past weekend. A memorial procession will be held from 9:30 a.m. to 10:30 a.m.
To help those who can't view the procession in person, LJWorld.com will provide a live video feed of the memorial procession from Shawnee Fire Department headquarters.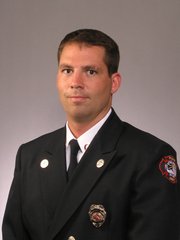 Shawnee — On New Year's Eve 2009, this status update appeared on Facebook: "John Glaser is looking back on how much his life has changed over the past decade. It was a crazy ride but he couldn't be happier with his final destination."
It was a time full of changes for the 33-year-old Shawnee firefighter. A veteran of the United States Marine Corps, Glaser had gone from working at Hallmark to living in Tampa, meeting the woman who would become his wife, coming back to Kansas City and becoming a firefighter, and finally having two children. He had completed his first triathlon and learned to scuba dive.
"I used to joke there wasn't anything he couldn't do, and he lived like that," said longtime friend Kevin Konen of Prairie Village. "He lived his life to the fullest."
As the community mourns the loss of Glaser, who died in the line of duty Saturday, friends and family are remembering Glaser's humor, drive and determination.
He was born Oct. 7, 1976, in Kansas City, Mo., the son of Arvon and Patty (Reardon) Glaser.
A 1995 graduate of Blue Valley Northwest High School, Glaser earned his Bachelor of Arts degree in 2000 from Kansas University, where he was a member of Delta Tau Delta fraternity. His friends all knew him as a die-hard KU fan — his "man cave" in the basement is adorned with front-page replicas proclaiming the Jayhawks' national basketball championships in 1952, 1988 and 2008, as well as a fan of Lawrence-based Free State Brewery.
Konen met Glaser in 2000 when they worked at Hallmark together in the same sales department. Konen said they became buddies, going to lunch together and hanging out on weekend.
"He just had such a great personality; he was someone you always wanted to be around," Konen said.
Glaser had an incredible sense of humor, Konen said, often quoting movies or leaving funny voicemails for his friends.
"I'd save his voicemails for so long because he would just crack me up," Konen said.
Glaser was a Marine veteran and his service greatly impacted his life. Konen remembers a time when troops were first coming back to the area from the Iraq War in 2003, Glaser made the trip to the fort where they were returning.
"I said, 'Did you know one of them?' and he said, 'No, I just wanted to be there,'" Konen said. "And that said a lot about his character."
Konen said he also witnessed Glaser meet a World War II veteran once in a grocery store.
"He made a point to tell him how much he loved and appreciated him," Konen said. "It brought the guy to tears, and his wife wanted to hug John."
Damion Freeman of Shawnee remembers working with Glaser in the Marines, when Glaser was his squad leader.
"I didn't know what to expect, he being a corporal and me just a Pfc., but he was very laid back and did his best to keep things relaxed while still maintaining Marine protocol," Freeman said. "I will always remember he tried to make the best out of the situation, no matter how bad it got."
Glaser also was the type follow through on his goals and plans.
"If he said it, he did it," Konen said. "He'd say, 'I'm going to train for a triathlon,' and you'd think, 'Wow, that's pretty daunting,' but he did it."
Meghan Downey-Flavin of Kansas City, Mo., went through high school and college with Glaser and agreed that Glaser was driven.
"We were never best friends, but he was the guy that didn't care whose 'group' you were in and just liked people and was fun," she said. "The one word that I would use to describe John is passionate. Whatever he did, he did it with passion and with 100 percent of his attention."
One example is in 2003, when he decided he wanted to live closer to the water and, on a whim, moved to Tampa.
"That was kind of his attitude – he didn't have a job lined up, but he said, 'I'll find something when I get there,'" Konen said.
It was in Tampa that he met his future wife, Amber Plumb Glaser, a Kansas City native who, it turned out, grew up not too far from Glaser.
"I joked with him that he went all the way to Florida to find his Kansas City wife," Konen said.
Her parents now live in Lawrence.
It's also where he decided to dedicate his life to the fire service. Konen said Glaser told him about driving by a fire department in Florida and suddenly deciding to stop, just to pick the firefighter's brains about what they do and why they do it.
"He said he wanted to help the community," Konen said. "He said 'If I can't be in the military and help that way, I want to help as a firefighter.' He was just one of those friends that just kind of blew you away because he just wanted to help others, make life better for people."
Konen said when Glaser did some fire training in Florida, the chief took Glaser aside to tell him that though he was the smallest guy there, he had the biggest heart.
On June 21, 2004, Glaser began his career as a firefighter with the Shawnee Fire Department, where he was a member of both the Swift Water Rescue and the HazMat teams.
It was the last full-time job he ever had — unless you include parenting.
Glaser and his wife are parents of two children, Brecken, 2, and Emma, 5 months. On Glaser's Facebook profile, he lists "Changing Diapers, Playing Peek a Boo and Making Bottles" among his activities.
He talked about taking his son to Dinosaurs Come Alive at Union Station and enjoying his first Daddy-Daughter Day.
In March, a friend posted on Glaser's page that Glaser's brother woke up that day sobbing. "He had a vivid dream about you and really missed you. True story," the friend wrote.
Glaser responded, "He told me. That just goes to show you what kind of brother I am. He can't quit me."
Copyright 2018 The Lawrence Journal-World. All rights reserved. This material may not be published, broadcast, rewritten or redistributed. We strive to uphold our values for every story published.