Photo Gallery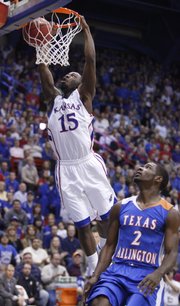 KU vs. UT Arlington
Press Conferences & Post-Game Interviews
KU coach Bill Self
Kansas coach Bill Self talks to reporters following the Jayhawks' 82-57 victory over UT Arlington on Dec. 29, 2010.
Kansas University power forward Thomas Robinson, who had three vicious dunks en route to a career-high 20 points, paid the price for his rim-rattlers Wednesday night in Allen Fieldhouse.
"My wrist hurts," the bruising 6-foot-9, 237-pound sophomore said with a smile after hitting eight of 10 shots and four of seven free throws and grabbing 10 rebounds, making his first start of the season and second of his career a memorable one in KU's 82-57 victory over Texas Arlington.
"It's something I learned early. If you are going to dunk, dunk it hard," Robinson added. "(Assistant Joe) Dooley tells me to try to bring the rim down."
Robinson, who KU coach Bill Self said is "without question our best post guy," wanted to give credit to a fellow dunk artist.
LaMarcus Reed put down two slams, one in Robinson's face in the first half.
"I'd say he won that battle," Robinson said of the in-your-face jam. "He had a couple. I take my hat off to him. He's a good player. They have a good team. But we had a bad game, so I had a bad game."
Robinson said what one might expect when asked if he was more energized in making his first start of the year.
"I don't look at it that way," the Washington, D.C., native said. "I look at bringing the same energy whether starting or coming off the bench."
Robinson said he tries to bring energy every night.
"It's something I wanted to work on coming into the season, being consistent," Robinson said. "I've talked to the coaches about it. It doesn't matter who we are playing. I need to play hard every game.
"Every team needs a glue guy. Somebody who can come in and help bring energy. That's my role."
KU's other two newly promoted starters were a mixed bag. Elijah Johnson had a big game with 11 points and five assists, while Josh Selby missed eight of nine shots and finished with two points and two assists.
"I think they were better than the guys who got benched, to be honest," Self said.
Marcus Morris scored 13 points and grabbed six rebounds, while Tyshawn Taylor had eight points and two assists. Brady Morningstar had one point, one rebound and one assist, also in a reserve role.
"The thing that concerns me ... who are our best players?" Self said. "I don't know. We talk about it as a staff, who are our best players? Elijah without question tonight was one of our best five players. Thomas is playing better than any big guy. We don't even know who our best players are.
"That's frustrating because you need to have some rhythm and have roles to find. It's great to have different guys every night, but when you don't make shots, you should still be one of our best players regardless if the shot goes in or not.
"You can put any of nine guys out there right now, and it doesn't make any difference," he added. "We need to have some guys separate themselves because you can't go into a game not knowing what you want to do as far as who is going to play the most minutes. I started four new guys tonight, but to be honest, some of those guys are better than our starters who have been starting and were more productive. Practice hasn't been interesting, but it's about to get a lot more interesting."
Self wasn't pleased, especially defensively, after a game in which KU led by just five, 40-35, with 17:34 left. Robinson had three points and Travis Releford five in a 15-2 run that finally opened a 55-37 lead.
"The second half, our best team was Travis at the 4 and Thomas the 5. That was our best team," Self said.
He said it wouldn't necessarily be best for KU's team in the long run to have Robinson start.
"We've seen how good Marcus and Markieff (Morris, 14 points, five boards) can play," Self said. "Thomas is a great spell guy off the bench.
"We are so up and down right now. Defensively we are not even close. That's what is frustrating."
KU will meet Miami of Ohio at 5 p.m. Sunday in Allen.
Copyright 2017 The Lawrence Journal-World. All rights reserved. This material may not be published, broadcast, rewritten or redistributed. We strive to uphold our values for every story published.