Photo Gallery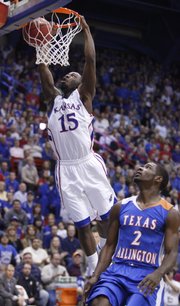 KU vs. UT Arlington
Press Conferences & Post-Game Interviews
KU coach Bill Self
Kansas coach Bill Self talks to reporters following the Jayhawks' 82-57 victory over UT Arlington on Dec. 29, 2010.
When UT Arlington junior Bo Ingram first walked into Allen Fieldhouse, he was hit with a small-scale version of the video that Kansas University runs before its games.
The championship banners glowed in Ingram's eyes, the names of former KU greats danced in his head, and the magnitude of the moment hit him a lot like the physical Jayhawks did during their 82-57 victory against Ingram's squad.
"This is a legendary building," Ingram said. "I'm thankful for just being in this type of atmosphere. It was an honor to see, but during the game you gotta tune all that out and just play basketball. A lot of good players came through here, and I just wanted to make a name for myself."
Though his name won't stand the test of time, Ingram made a splash while he was here, scoring 20 points on 8-of-12 shooting to lead a young UTA team that hung with Kansas for 25 minutes.
Trailing by just eight at the half, Arlington cut the KU lead to 40-35 with 16:10 remaining in the second half. At that point, the bigger, faster, stronger Jayhawks rattled off an 18-5 run that put the game away.
The outcome came in direct contrast to the Mavericks' most recent game, a 17-point loss at Big 12 foe Texas Tech last Wednesday. In that one, UTA struggled early and trailed by 13 at the break before playing the Red Raiders within four points in the second half.
Against KU, a strong first half was followed by a rough run during the final 15 minutes.
"No disrespect to Texas Tech," UTA coach Scott Cross said, "but Kansas is unbelievable. I admire the way they play basketball."
Outside of a 41-25 margin in rebounding, the Jayhawks did not own any eye-popping advantages Wednesday. KU shot 51 percent, compared with 43 percent for UTA. The Mavs made more three-pointers (eight to five), went to the free-throw line 14 more times (making 12 more) and committed just 16 turnovers.
Nine of the 10 UTA players who entered the game scored; however, only two — Ingram and sophomore guard Cameron Catlett, with 10 — scored more than six points.
Like his leading score, Cross also was a little awestruck Wednesday night.
"This was an unbelievable experience," he said. "This is definitely the best environment I've ever played in. I see why everybody gets so excited about basketball here. Just in the introductions, our players couldn't even hear me. It's pretty unbelievable."
Copyright 2018 The Lawrence Journal-World. All rights reserved. This material may not be published, broadcast, rewritten or redistributed. We strive to uphold our values for every story published.