Photo Gallery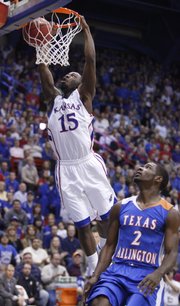 KU vs. UT Arlington
Press Conferences & Post-Game Interviews
KU coach Bill Self
Kansas coach Bill Self talks to reporters following the Jayhawks' 82-57 victory over UT Arlington on Dec. 29, 2010.
Self miffed
Displeased with his team's play overall, Kansas University coach Bill Self was especially bothered by the last play of Wednesday's game against Texas Arlington.
The Mavericks' Bo Ingram knocked in a three with three seconds left in the Jayhawks' 82-57 victory.
"The last possession summed up our team," Self said. "We just let them shoot an uncontested basket and score points on us because the game is over in our mind. That's not the right mind-set. We've been talking about this, but it's going to hurt us in a big, big way as soon as competition gets stiffer.
"They think, 'It's no big deal.' It's a big deal to me."
As to why KU would let UTA score, Self said it could be a matter of "toughness, pride."
Michigan time TBA
Game time for the KU-Michigan game on Jan. 9 in Ann Arbor, Mich., likely will be announced Monday, KU officials said.
The game is slated to start at 12:30 p.m. or 3:30 p.m. and be televised on CBS. The network won't set the game time until CBS' NFL playoff schedule is finalized Sunday.
Big crowd
Prior to Wednesday, UT Arlington had played in front of a combined 19,768 fans in 10 games this season. Wednesday's attendance was listed at capacity: 16,300.
This 'n' that
KU is 12-0 for the second-straight season and fourth time in the Self era. The Jayhawks are 7-0 this season in Allen Fieldhouse and have won 66 straight home games. ... KU is 1-0 all-time vs. UT Arlington. KU is 4-0 against current membership of the Southland Conference.. ... KU is 120-6 at home in the Self era.
Copyright 2018 The Lawrence Journal-World. All rights reserved. This material may not be published, broadcast, rewritten or redistributed. We strive to uphold our values for every story published.