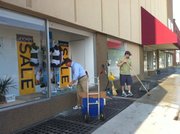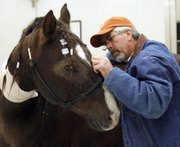 Whether it's a wild deer running loose downtown, a dog rescued from a pond or a slow and steady turtle on the run, people love animal stories.
Last year brought us Beans the traveling cat, who hitched a ride in a moving truck and made it all the way to San Francisco. Then there was the successful push by Lawrence sixth-grader Judson King to amend the Lawrence city code allowing him to have a pet hedgehog.
But 2010 had its share of fun and weird animal tales. Here's a list of some of the more interesting and heartwarming adventures reported in our area:
• In August, a frisky deer crashed through a glass window displaying brassieres and other underwear at Weaver's Department Store. The deer was spotted in a resident's yard a few minutes later and then escaped toward the Kansas River. Mayor Mike Amyx had a front-row seat to the ordeal, as he was at his barbershop across the street from Weaver's when the deer crashed into the store.
• An online classified ad offering a pet alligator for $300 led police to the doorstep of a Lawrence resident in September. Animal control officers confiscated the 3-foot caiman, a reptile similar to a crocodile. The creature is illegal to own in Lawrence, a fact the owner said was unaware of. The caiman, which can grow up to 8 feet long, was taken to the Prairie Park Nature Center. It remains at the center, and staff members say he's been a big hit with visitors.
• Another online advertisement revealed the harrowing journey of a Tonganoxie tortoise named Arzula. The tortoise's owner posted the ad in August when the 14-inch tortoise escaped from her backyard. Arzula eventually turned up safe and sound after successfully crossing a busy intersection. Arzula's slow gait took him only two blocks during the two weeks he was missing.
• Riley the dog suffered third-degree burns and other injuries when his owner's home in the 900 block of Mississippi burned down in late May. Riley's injuries racked up more than $3,000 in veterinary bills. Months later, staff at Gentle Care Animal Hospital, where Riley was treated, reported that the dog has made a full recovery.
• The Tonganoxie Mirror recently reported the story of Levi, a 6-year-old, mustang rescued by Tonganoxie man Jay Miller. The once wild horse was rescued by the Bureau of Land Management, and Miller volunteered to work with the horse. Quickly, Miller discovered Levi was nearly blind. Fundraising efforts raised enough money for a surgery by staff at the K-State Veterinary Hospital to remove Levi's cataracts — restoring more of the horse's vision.
Copyright 2018 The Lawrence Journal-World. All rights reserved. This material may not be published, broadcast, rewritten or redistributed. We strive to uphold our values for every story published.