Douglas County prosecutors on Wednesday charged a Fort Leavenworth soldier with one count of aggravated battery related to a stabbing earlier this month in downtown Lawrence.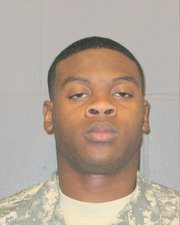 District Attorney Charles Branson's office charged 19-year-old Christopher J. McCallum with one count of intentional aggravated battery, which can carry a minimum sentence of three years and two months in prison if he's convicted. Lawrence police arrested him Monday evening at Fort Leavenworth — the culmination of an investigation that lasted more than a week.
McCallum is accused of stabbing a 20-year-old Kansas City, Kan., man in the early morning hours of Dec. 5.
The stabbing victim showed up at Lawrence Memorial Hospital, and police later connected his injuries to a fight that officers had broken up earlier outside Liberty Hall, 644 Mass.
The victim was transferred from LMH to a Kansas City area hospital and was eventually released.
Fort Leavenworth officials on Tuesday confirmed McCallum was a soldier stationed there.
During his first appearance in court Wednesday afternoon, McCallum only said "yes, sir" or "no, sir" in response to questions from James George, the county's pro-tem judge.
George granted a request from legal intern Bree Gorynski to set McCallum's bond at $100,000, cash or surety. Gorynski said the amount was appropriate because McCallum was accused of using a knife in the case and because he had no known ties to Lawrence.
George appointed Lawrence attorney James Rumsey to represent McCallum, who is next scheduled to appear before District Judge Sally Pokorny at 2 p.m. Monday.
Copyright 2018 The Lawrence Journal-World. All rights reserved. This material may not be published, broadcast, rewritten or redistributed. We strive to uphold our values for every story published.