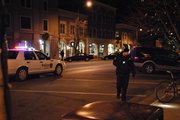 Lawrence police are investigating a stabbing incident that occurred in the downtown area early Sunday morning.
The incident occurred around 1:40 a.m. outside Liberty Hall, 644 Massachusetts St. According to a recent media release, police observed a large fight in progress that had spilled out into the street in front of the building. As additional units were arriving, the crowd dispersed in several directions.
It was determined later that a 20-year-old Kansas City, Kan. man was stabbed multiple times during the altercation and had left the scene. The victim was taken to Lawrence Memorial Hospital by private vehicle. He was later transported by ground ambulance to a Kansas City area hospital with non-life threatening injuries.
Police are still investigating the incident. No suspects have been identified at this time.
Anyone who has information about the stabbing is asked to call police, 785-832-7650 or Douglas County Crime Stoppers, 785-843-8477. Calls to Crime Stoppers, which does not subscribe to caller ID, remain anonymous. Tips to the Crime Stoppers hotline can lead to an award of up to $1,000.
Check back to LJWorld.com for more information as it becomes available.
Copyright 2017 The Lawrence Journal-World. All rights reserved. This material may not be published, broadcast, rewritten or redistributed. We strive to uphold our values for every story published.