Photo Gallery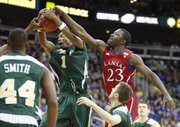 KU vs. Colorado State
Press Conferences & Post-Game Interviews
KU coach Bill Self
Kansas coach Bill Self talks to reporters following the Jayhawks' 76-55 victory over Colorado State on Dec. 11, 2010, at Sprint Center in Kansas City, Mo.
Kansas City, Mo. — For 40 minutes on the floor, a few more during the postgame handshakes and 7:09 in front of the media, Colorado State sophomore Dorian Green kept it together.
However, on the way back to the locker room after CSU's 76-55 loss to Kansas University at Sprint Center, the former Lawrence High standout experienced a wave of emotions he didn't quite expect.
"It's just kind of frustrating," said Green, with tears welling in his eyes. "It doesn't matter who you're playing, you have to bring it. In the first half, we proved that we could play with anybody. We didn't play too well in the second half, is what it really comes down to."
In a nutshell, that's what Saturday was about for Green. Not the homecoming, not playing the Jayhawks, not anything other than basketball.
"When we travel, we call it a business trip," Green said. "It was a good experience to play against a team like that, and it was good to be back home, but I was really just trying to focus on getting a win."
In the first half, Green's efforts made an impact, and the Rams trailed by just seven (41-34) at the break. At halftime, the 6-foot-2, 170-pound point guard led all scorers with 10 points on 2-of-4 shooting, with two three-pointers and a 4-for-4 effort at the free-throw line.
"I thought Dorian was the best player of the (first) half," KU coach Bill Self said. "He took four shots, and he scored 10 points. That's production."
Green opened the game with a three-pointer from the wing and added another — a couple of feet farther out — with just under three minutes to play in the half. In the first minute of the game alone, Green hit a three-pointer, grabbed a defensive rebound and swiped a steal.
For the game, he finished with 10 points, three rebounds and two assists in 30 minutes.
"I think he was solid," KU junior Tyshawn Taylor said. "I think he played real good. I actually went to see Dorian play in high school one time, and I like his game a lot."
The second half did not go as well for the hometown product, who was welcomed to the Sprint Center floor with a warm cheer during introductions. Green misfired on the only two shots he attempted and also missed his only free throw. Credit the Kansas defense for the former. Taylor said Green's two first-half three-pointers opened his eyes and forced him to dig in defensively.
"I actually wasn't expecting him to shoot that (first one)," Taylor said. "And then he hit another one that was kind of deep, too, right in my face. I (tried) to pressure him and made him do some different things. But once he got a clear look, he was going up, and he made two real good ones."
Although CSU coach Tim Miles said he enjoyed the opportunity to measure up against the No. 4 team in the nation, he, too, was able to enjoy Green's return.
"I thought it was a special time when the crowd erupted and everybody was so gracious to him," Miles said. "He's a special kid and a really good basketball player, and we're fortunate to have him. I thought it was a pretty cool moment. And to make his first three, boy, I thought he was a really good guy."
Miles also was able to appreciate just how good the Jayhawks were, even on a day when Self called his team, "awful."
"I thought Kansas did a real good job with their length and athleticism, getting out and pressuring," Miles said. "And then when we did drive, I thought their help was pretty good."
CSU, which lost in overtime at Colorado last Wednesday, fell to 4-3, while Kansas improved to 9-0.
Copyright 2018 The Lawrence Journal-World. All rights reserved. This material may not be published, broadcast, rewritten or redistributed. We strive to uphold our values for every story published.