Photo Gallery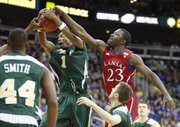 KU vs. Colorado State
Press Conferences & Post-Game Interviews
KU coach Bill Self
Kansas coach Bill Self talks to reporters following the Jayhawks' 76-55 victory over Colorado State on Dec. 11, 2010, at Sprint Center in Kansas City, Mo.
Booth kudos
Kansas coach Bill Self exclaimed, 'Wow,' when asked about KU grad David Booth's purchase of James Naismith's original rules of basketball for $4.3 million.
"Allen Fieldhouse is unbelievable. It just took a different level," Self added. "It went from the most historic building in our biased opinion in the country to now it'd be hard for anybody else to ever say it's not if we have the rules out there (in fieldhouse) and we do it right (in displaying them).
"It's terrific. I've had numerous anonymous e-mails saying how impressed they are with that (winning bid). Kudos to the Booth family and their generosity."
This 'n' that
Saturday's game was the first between the schools. ... KU improved to 18-4 versus Mountain West Conference teams. ... KU is 9-0 for the second straight season and fourth time in the Self era. ... KU is 10-2 in Sprint Center (five straight victories) and 195-76 all-time in Kansas City. ... KU's last Sprint Center loss was 61-60 to Massachusetts on Dec. 13, 2008. ... Kansas wore crimson uniforms for the first time this year during the regular season. The Jayhawks also wore crimson in their exhibition contest against Emporia State. The last time KU wore crimson during a regular-season game was in a 98-31 victory over Alcorn State on Dec. 2, 2009. ... Markieff Morris recorded six offensive rebounds, passing his previous career high of five against Kansas State on March 3, 2010. Six offensive rebounds are the most by a Jayhawk this year. ... Markieff also had three blocked shots, which was a season high. ... KU outrebounded Colorado State 50-30, which was the largest rebound margin in favor of the Jayhawks this season. The last time KU was at least plus-20 in rebounding margin was when KU was plus-28 against Missouri on Jan. 25 of last year. ... Tyrel Reed's 10 three-point attempts were the most by a Jayhawk this season. He made three. Now he has 120 for his career, good for 15th place on KU's all-time list. ... Tyshawn Taylor recorded two steals and has 100 in three years. ... KU set season highs in free throw attempts (31), offensive rebounds (18) and total rebounds (50). The team tied season highs in three-point attempts (23), blocked shots (10) and fouls (19). ... KU set season-lows in points (76), field goals (25), field goal percentage (46.3), two-point field goals (17), two-point field goal attempts (31) and assists (13). The team tied season lows in points in a half (35) and field attempted (54). ... KU shot under 50 percent for the first time this season (46.3 percent).
Faces in crowd
KU Chancellor Bernadette Gray-Little attended with her husband, Shade. Shade visited with former KU athletic director Lew Perkins at halftime. ... Former KU center Sasha Kaun also attended. ... Former KU football player Darren Green watched behind the Colorado State bench in support of his son, CSU's Dorian.
Copyright 2018 The Lawrence Journal-World. All rights reserved. This material may not be published, broadcast, rewritten or redistributed. We strive to uphold our values for every story published.