Photo Gallery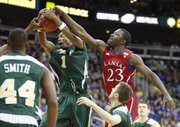 KU vs. Colorado State
Press Conferences & Post-Game Interviews
KU coach Bill Self
Kansas coach Bill Self talks to reporters following the Jayhawks' 76-55 victory over Colorado State on Dec. 11, 2010, at Sprint Center in Kansas City, Mo.
Kansas City, Mo. — The 18,756 fans in Sprint Center weren't the only folks scared to death when Kansas University junior Marcus Morris crumbled to the floor just 21⁄2 minutes into Saturday's nonconference clash against Colorado State.
Morris was frozen in fear, as well.
"It's one of the first times I really thought I had a serious injury," said Morris, who stepped on the foot of CSU's Travis Franklin on the defensive end. "It was the same last year when I ran into the scorer's table at Missouri. I knew I twisted my ankle. I knew I rolled it, but I thought I tore something."
The good news is that after a 14-minute stay in the locker room, Morris returned to action. The 6-foot-9 Philadelphia native, who was diagnosed with an ankle sprain, not some ominous injury, finished with eight points and four rebounds while playing 18 minutes — 12 the second half — in KU's otherwise bland 76-55 victory.
"I got a little treatment, tested it out, saw I could run and slide and wanted to get back in the game," said Morris, who upon returning to the bench heard the chants of "Marcus Morris, Marcus Morris" from KU's student section.
There were some anxious moments in the locker room.
"You come down on somebody's foot, you fear the worst," said Morris, whose anxiety showed on his face.
"When I got back there, he was shaking," said Morris' mom, Angel, who was allowed access to the locker room to check in on her son. "He had his leg up on a table. He was scared. I was scared for him, too. He started walking around, moving around and was fine.
"It's a miracle," she added of her son going from needing to be helped off the court to close to 100 percent in a matter of minutes. "God is good."
Morris — he did not score the first half as KU limped into the break with a 41-34 lead — wasn't all doom-and-gloom back in the locker room.
"I was watching it (game) on TV back there," he said. "I saw Travis (Releford, four points, five rebounds, 11 minutes) get his dunk. I saw Brady (Morningstar, six points, four rebounds, four steals, 24 minutes) get a dunk. It made me want to get back out there even more."
Marcus' brother, Markieff, who had 12 points and 11 boards in 28 minutes, never was too stressed.
"He was cool," Markieff said of his twin. "I went over to make sure he was feeling all right, just to see if he would be able to come back in the game. Coach told me during the game he was going to be able to come back."
Guard Tyshawn Taylor, who scored 12 points and dished six assists, noted: "I didn't see it happen. I saw him lying down there. Coach said it was pretty bad when it happened. When he came back out, I was really happy."
Self, of course, was too busy coaching the game to fret about Morris during the player's absence.
"He just turned his ankle," Self said. "It was a pretty good sprain. It was great he came back. It doesn't hurt bad enough to miss practice. That's one good thing about him coming back, at least we know he can practice."
Marcus is not the type to ask out of a practice.
"I come back from injuries quickly," he said. "We get Sunday off. I'll be back out there Monday."
He wasn't the only Jayhawks to return from an in-game injury. Elijah Johnson, who suffered a slight dislocation of his shoulder in the first half (it popped right back into place), returned from the locker room to hit two threes in a 12-0 run that stretched a 44-39 lead to 56-39 with 10:51 left.
"Not great in leading the break and throwing lobs, but he made a couple shots," Self said of the sophomore guard who had six points and four boards in 17 minutes. "I think Elijah is coming. He is a good player and will get more and more confident."
Self was not thrilled with any aspect of his team's play, including not rallying together during the period Johnson and Morris were in limbo.
"You have Elijah and Marcus go down, doesn't everybody tighten the screws a little bit? Instead, (they) become more lackluster. That is a concern to me and our whole coaching staff. Everybody feels the same way."
Freshman Josh Selby will now be added to the mix and will be eligible to play in the next game, Saturday's 11 a.m. battle against Southern Cal in Allen Fieldhouse. The Jayhawks have a light schedule this week because of final exams on campus.
"It won't be fun (for players). I'll have more fun than they will," tough taskmasker Self said. "We've got to get better this week."
Copyright 2018 The Lawrence Journal-World. All rights reserved. This material may not be published, broadcast, rewritten or redistributed. We strive to uphold our values for every story published.