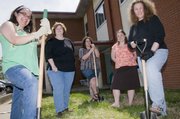 Lisa Parr grew up in the country outside Paola. She's been producing her own food for years. But she knows many other women her age — 28 — as well as those younger and older haven't had such an experience.
So she thought she'd give them a little help — and assist others along the way.
Parr, an employee with the GaDuGi SafeCenter, has formed the Girls Garden group as a way for girls and women to learn how to garden in a plot of land on the grounds of the United Way Building, 2518 Ridge Court, where GaDuGi is located. The group meets at 1 p.m. Sundays at the building.
"GaDuGi decided that they wanted to start groups, community groups. There are three total that we have started. And the gardening group is one of them," Parr says. "What it is is a community garden basically for women between the ages of 5 to however old, we always say 95, because it sounds cool, but we're not limiting it to that in any way."
The plan, Parr says, is to create a small garden of herbs and produce that can be sent home with the participants or be donated to ECKAN, which is also located in the building. She says that if enough women get involved, the group might be expanded to work on other community gardens. But, Parr says, more than giving food to participants, she wants to impart the knowledge of how to garden. She stresses that no gardening experience is necessary to join the group — those looking to learn are as welcome as those with backgrounds in gardening.
"That's something I've been trying to put on fliers: You don't need to know (how to garden) — go if you're interested," Parr says. "That's what I thought would be the cool thing about getting the younger kids involved is ... learning as a child to do that — it is a skill you can use for the rest of your life."
Helping Parr with the undertaking is Jessi Asmussen of SLUG — Support for Urban Gardeners. The group has a team of workers assigned to work with Parr and her group. Parr says SLUG will help secure seeds and give advice to the gardeners about what to grow. Though the group usually provides aids to personal farmers, Asmussen says SLUG couldn't pass up the opportunity to help a the Girls Garden.
"We're dedicated to helping them start a garden," Asmussen says.
Unfortunately, the weather has had other plans, and though Girls Garden has been formed since April, wet Sundays have put the actual digging a bit behind. Parr used the month to map out a plan and is hopeful that what plans from that planning is something great.
"We want to work with empowering the women in the community," Parr says. "Want to spread the skills of gardening and the joy of being outside."
Copyright 2018 The Lawrence Journal-World. All rights reserved. This material may not be published, broadcast, rewritten or redistributed. We strive to uphold our values for every story published.