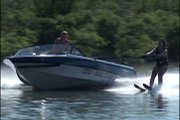 Editor's note: Reporter Mark Boyle takes us behind the scenes of news stories in the area. This week, he threw on the sunscreen and a swimsuit for a lesson in water-skiing. The MoKan Ski Club uses a privately owned lake just southeast of Lawrence and once a year is host to a water-skiing adventure for several of the area's visually impaired children.
The spray on their faces and the warmth of the sun on their skin were just a couple of memorable impressions made Wednesday for several area visually impaired children.
As part of Adventure Fitness, which is a program of physical fitness and life skills for children with special needs, these kids were given the chance to fulfill a dream many thought wasn't possible.
"It's wonderful; the kids have never had such a freeing experience, so that's the most important thing," said Kayla King, who is the Adventure Fitness coordinator and visually impaired herself.
Once a year, Adventure Fitness teams up with the MoKan Ski Club, which leases a private lake just east of Lawrence on the south side of Kansas Highway 10.
With the use of specially designed skis and a boom hung off the left side of the ski boat, kids of all ages are able to enjoy the thrill of water-skiing.
Bryan Franklin, 25, has been water-skiing several times and still wouldn't miss the opportunity to return to the water.
"It's fun getting out here with people and getting a suntan," he said.
Eudora resident Tina Jinkens, who is relatively new to water sports, looked like a natural out on the water.
"It's so much fun," said Jinkens. "I couldn't wait to ski."
For water-skiing enthusiasts, the all-day adventure provides them the ability to share the sport they love with those who otherwise wouldn't have the means to be skiing on their own.
MoKan Ski Club members say the smiles on the new skiers' faces also say a lot about the Adventure Fitness program.
"These kids have a great time out here, they always love it," said Bryan Adriance, MoKan Ski Club member and co-organizer of the event. "I think we get more out of it than they do; it's just so much fun to be with kids that don't have that opportunity do something like this."
The morning round of skiers posted a 100 percent success rate on the water.
The ability to get up on two skis and glide across the water is something that never ceases to amaze those who have been skiing their entire lives.
"The sunshine, the good friends ... we all come together for a good cause," said Dan Roemer, MoKan Ski Club member and event mentor. "We share a sport that a lot of people don't do with people that don't always have a chance."
The experience Wednesday was probably one that none of these kids will ever forget, and that's important for their mental and physical well-being, says King.
"So many times physical education classes in the public or private school system just don't offer the physical fitness opportunities that are offered for the sighted people, so what we try to do is adapt and create our own physical fitness activities."
To learn more about Adventure Fitness, log onto kc-campfire.org.
Copyright 2018 The Lawrence Journal-World. All rights reserved. This material may not be published, broadcast, rewritten or redistributed. We strive to uphold our values for every story published.