Photo Gallery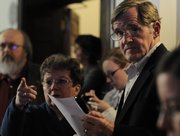 Election Day 2009
View a detailed breakdown of results from every precinct for this race
Lawrence school district voters selected the fire chief, a newcomer to the city and a voice on equity issues to step into leadership roles during a transition period for the district.
Mark Bradford with 3,661 votes, Vanessa Sanburn with 3,596 and Bob Byers with 3,055 won the three school board seats up for grabs in Tuesday's election.
"I would say I believe the public knows what I do for them as their fire chief and what I try to do in the community, and probably they saw that coming with me as I work on the school board," said Bradford, Lawrence fire chief since 2005 who received strong support from western Lawrence precincts Tuesday.
Sanburn, a political newcomer and Kansas University graduate student studying social work, recently moved to Lawrence from Wichita with her husband and daughter. She said voters were likely drawn to some of her top campaign issues — providing a more complete sexual education curriculum and having local food suppliers contribute to school lunches.
The board will have to deal with tough budget issues next year, she said.
"Any programs tied strongly to academic achievement must stay," Sanburn said.
Byers, a longtime Lawrence resident and an assistant program administrator for the Kansas Department Social and Rehabilitation Services, said he wanted to focus on the socioeconomic achievement gap, especially in secondary school students.
"We've got to figure out why and what we can do to prevent it," said Byers, who has worked as chairman of the district's equity council.
For the third spot, Byers edged out former county Democratic Party Chairman Tom Hartley, who received 2,426 votes. Thom Hepford with 2,399 votes, Michael Riley, 1,736 votes, Michael Pomes, 1,641 votes, and current board member John Mitchell, who decided not to run after he filed and was on the ballot, received 1,030 votes to round out the field.
Bradford said it would be important for the new board members to show strong leadership during tough budget times. Superintendent Randy Weseman will retire in July and hand over the top administrative post to Louisburg Superintendent Rick Doll.
Bradford would also like to see the school district work more with city and county leaders on economic development issues to shift the tax base from relying so much on residential property values.
"We're going to have to work real hard to increase economic development to bring in more tax revenues," he said.
Bradford, Sanburn and Byers will replace three board members who did not seek re-election, Craig Grant, Linda Robinson and Mitchell.
The new board members will take office in July. Douglas County Commissioners will meet at 9 a.m. Friday at the courthouse, 1100 Mass., to certify the election results.
Copyright 2018 The Lawrence Journal-World. All rights reserved. This material may not be published, broadcast, rewritten or redistributed. We strive to uphold our values for every story published.