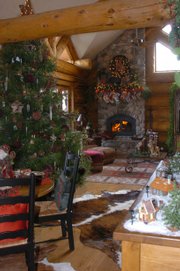 Located minutes northwest of Lawrence, nestled deep in the hills and forest near the Kansas River, sits Creek Stone, the majestic log cabin home of Roberta and Kim Richey.
The look and feel of the Colorado Rockies has been transported to Lecompton in the lodge-style retreat Roberta Richey shares with host Lori Carson on this week's "Home and Away."
Richey, owner of DGN Interiors, contributed her considerable experience in residential and commercial design to the plan and construction of the home, previously featured in Log Home Living magazine.
"We wanted it to feel as if you were away at a lodge, to bring the feeling of vacation home," she says.
The home is constructed of massive 18-inch-diameter hand-crafted logs, harvested in green-conscious, "dead-standing" fashion from a Utah national forest.
The home will open to the public Dec 5-7 for holiday tours, with proceeds benefiting the Douglas County Toys for Tots program.
"Home and Away" premieres at 6:30 p.m. today on Sunflower Broadband Channel 6.
— Lori Carson can be reached at homeandaway@sunflower.com.
Copyright 2018 The Lawrence Journal-World. All rights reserved. This material may not be published, broadcast, rewritten or redistributed. We strive to uphold our values for every story published.