On the street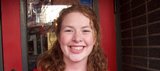 No. There are cities with much larger homeless populations, and I think Lawrence does an admirable job helping those in need.
Damian Scott might be the friendliest panhandler in town.
"Excuse me, could you possibly spare some change?" asks Scott of downtown shoppers while on a bench outside an area coffee shop.
When they decline and say "sorry," Scott replies, "Don't be sorry, just have a nice day."
Scott, who has been homeless "on and off" for about five months, says he finds the best approach when asking people for money is simply being friendly.
"I'm always polite," says Scott, who speaks of other panhandlers downtown who don't take the same approach, sometimes leading to arguments between panhandlers and residents. Scott says he's aware of the local "aggressive panhandling" ordinance, and he doesn't like some tactics other panhandlers use.
"I think that's wrong," says Scott. "They should just be polite."
Scott says he adheres to the "panhandling code": If someone else is panhandling or playing music in an area, he goes somewhere else.
On this day, as the working crowd shuffles through downtown heading to lunch, Scott's hungry and trying to get some money for food. He's also trying to get enough money for an elderly friend who doesn't like to panhandle.
After sitting on the bench for about 15 minutes, Scott has a long way to go before he'll have enough money for lunch. So far, he has about 80 cents piled up next to him.
While Scott admits that sometimes he's looking for cigarette money, mostly it's just for food.
Scott says that after a while, he can usually get enough money for something to eat, about $5. The most he's ever received from someone: a "ten-spot."
Scott graduated from Lawrence High School in December and had his own one-bedroom apartment, but was evicted because of a fire. He was able to get another apartment, but was evicted for letting some of his homeless friends stay with him. Some nights he stays at the shelter, and sometimes he sleeps outside.
He occasionally plays a keyboard when panhandling.
"I'm too young for this," says Scott of being on the streets. "Some (panhandlers) are looking for money for drugs and alcohol, but some of us are looking for help."
- Shaun Hittle is a graduate student in journalism at Kansas University. He can be reached at x99hittle@hotmail.com.
Copyright 2013 The Lawrence Journal-World. All rights reserved. This material may not be published, broadcast, rewritten or redistributed. We strive to uphold our values for every story published.