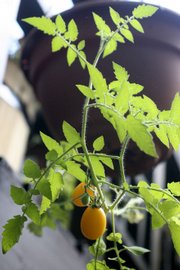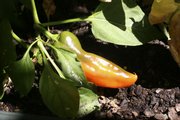 Tips for starting a patio garden
Here are some suggestions for beginning your own patio garden:
¢l Select the right container. Go for a combination of style and function. Moisture is all important - beware adding too much or providing too little. Try self-watering containers, and size your pots properly so plant roots have enough room to develop.
¢ Mark the spot. "Most vegetables require at least six hours of sunlight per day," said Kathy LaLiberte, director of gardening for Gardener's Supply Co., a catalog and online marketing venture in Burlington, Vt. "Salad greens and herbs can usually get by with somewhat less. Tomatoes, peppers, beans and other sun-lovers will appreciate as much sun as they get." Make growing containerized vegetables a movable feast. Place your pots on a cart, in a wagon or find growing boxes with wheels. That way you can shift them around the patio or deck to follow the sun.
¢ Go with "soilless dirt" or fluffy commercial compost rather than a heavy potting mix that will compact and dry quickly. Add sphagnum peat or water-absorbing polymers to the container to reduce the amount of time spent watering.
¢ Vegetables planted densely in pots, hanging baskets or small raised gardens need frequent feeding with a soluble, all-purpose fertilizer. "Containerized plants are watered frequently, and every time they're watered, nutrients are washed out of the soil," LaLiberte said.
¢ Choose plant combinations with similar characteristics. LaLiberte suggests blending beans, carrots and squash; eggplant and beans; tomatoes, basil and onions; lettuce, herbs and spinach, chard and onions.
If you're dreaming big about your garden this year, think small.
Many of the nation's leading nurseries are predicting big profits in 2008 by developing plants and vegetables for containers and space-deprived urban gardeners.
"Gardening is morphing into an outdoor living accessory, an extension of your home," said Bruce Butterfield, research director for the National Gardening Association in South Burlington, Vt. "People are using their patios and balconies rather than get their hands dirty in the ground."
Smaller yards and busier lives have fueled a desire for gardening on a smaller scale, said Randy Schultz, a spokesman
Gardening also is a hobby that grows more popular as people grow older. But as they continue to age, they tend to downsize. That generally means growing plants in pots or raised beds in sunny but protected corners where they won't dry in the wind. Plant varieties are now being designed to grow in containers, and Schultz calls that "perhaps the fastest-growing segment of this market."
Lettuces, salad greens and herbs all grow well in pots or small raised-bed gardens, Schultz said. Cherry and bush tomatoes, chard, pole beans, peppers and eggplants thrive in tight spaces, too.
"Container gardens filled with red and green lettuces or a container that holds yellow tomatoes, purple basil and red peppers can be just as beautiful as a pot of flowers and much more delicious," said Kathy LaLiberte, director of gardening for Gardener's Supply Co., in Burlington, Vt.
Ed Smith, author of "The Vegetable Gardeners' Bible," says growing plants in containers could be big this year because so many regions are facing a late spring with extra rain and cold temperatures. "Many enthusiastic gardeners have been worried that their 'grow your own' plans were thwarted if they haven't planted by Memorial Day," Smith said.
Here are some plants and plant collections expected to be hot sellers in 2008:
¢ Balconi red tomato (from Thompson & Morgan; www.tmseeds.com ): An exceptionally sweet cherry tomato variety that trails well when grown as a basket plant. One plant can fill a 12-inch container. This tomato variety is decorative as well as productive.
¢ Pepper Mini Belle (Thompson & Morgan): A dwarf, decorative plant that produces a large crop of small sweet peppers maturing to red, orange or chocolate in color.
¢ Musa Dwarf Lady Finger (from Logee's Greenhouses, Ltd.; www.logees.com ): A new, hardy edible banana variety that grows to five feet in height, making it manageable for outdoor patios or indoor sunrooms. Good for temperatures no lower than 60 degrees.
¢ Petunia Shock Wave series. (Developed by Ball Horticultural Co., sold nationwide in catalogs and garden centers): Annual. Tiny blossoms in vivid colors. Long-blooming and well-suited for hanging baskets, mixed and solo containers.
¢ Ficus carica Chicago Hardy (also from Logee's): A fig tough enough to survive sub-freezing temperatures (Zones 6 and higher), die back in the fall and re-sprout in spring. This medium-sized fruit is being promoted as an easy-to-grow container plant.
¢ Lettuce mini-green improved (Another Thompson & Morgan offering): Tennis ball-sized heads of iceberg lettuce bred so each is a meal for one person. Eighty-day maturity. Best grown in succession from spring through mid-summer for a continuous supply of salad hearts.
¢ Butterfly duo for drought and cold climates (Collection from Great Garden Plants; www.greatgardenplants.com ): Eupatorium Little Joe and Sedum Autumn Joy. Four months of color from a drought-tolerant pair of summer perennials that deer browsing will ignore. A collection that thrives in confined space gardens. (Good for zones 3-9).
¢ Foliage will be a show-stopper this spring. Blazin Lime Iresine (Ball Horticultural Co., will be sold extensively in catalogs and garden stores): Lime and cream variegated leaves good for mixed containers or garden beds. Does best in shade. Too much sun causes colors to fade.
Copyright 2018 The Associated Press. All rights reserved. This material may not be published, broadcast, rewritten or redistributed. We strive to uphold our values for every story published.