Ashley Sakumura ran into bad timing with the history books last season when she pole vaulted an impressive 10 feet for the Free State High girls track and field team.
"It would have been our school record, but we had a girl do 10-6," coach Steve Heffernan said.
Emily Leiker, who graduated last year, holds that record, which will serve as motivation for Sakumura this year.
Sakumura helped Free State finish fourth at the Class 6A state meet in Wichita last season. The senior placed fifth individually in the vault.
"She's thought about vaulting in college," Heffernan said. "That's her specialty. We won't have her try anything else."
Much of the reason for Sakumura's exclusivity to vaulting is due to a previous ankle injury.
Free State will feature senior Lindsay Simms in the shot put. Simms qualified for state last season in the event, but didn't place. This year, the expectations of the senior likely will be raised.
"I've known Lindsay since the third grade when she was at the Lawrence Track Club," Heffernan said. "From what we saw from her last year, she became more focused and motivated. I think what we'll see this year is a step beyond that."
Junior Brooke Carter is a name to keep an eye on for the high jump and the long jump. Carter displayed her leaping abilities on the volleyball court for Free State in the fall.
"She has a lot of pop," Heffernan said. "She's tall, but has foot speed. She has an athletic build that reminds me of successful college athletes."
Sophomore Kyra Kilwein is an up-and-coming name for Free State in distance events. Kilwein has experience in distance running from her involvement with cross country in the fall. She also placed fifth at state last spring in the two-mile event as a freshman.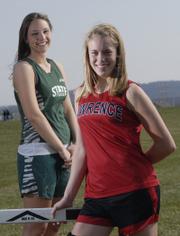 Heffernan said Kilwein wasn't satisfied with how her cross country season ended. She experienced problems with the excessive heat.
"Whatever was ailing her in cross country seems to have passed now," Heffernan said. "I think she's hungry. Our workouts are demanding and she's survived all of those. I think she can place in state in at least one event and maybe two."
Free State will open its season Friday at Nebraska Wesleyan.
On the other side of town, Lawrence High is coming off a second-place finish at the state meet.
The Lions will return three of four runners from their state-champion 4x800 relay team, including juniors Kristina Taylor, Jennifer Taylor and Kelly Renfro.
"We still have to find a fourth," LHS track coach Jack Hood said. "But we have three good ones to start with. For a few of these girls, all they've thought about was coming back and winning it again."
Senior Abby Jones, who won the state gymnastics title in the fall, will be the Lions' leading pole vaulter. Jones took fourth at the state meet last season.
"Gymnasts and wrestlers make great pole vaulters," Hood said. "In order to be a pole vaulter, you have to be in phenomenal shape."
You'll also want to look out for junior Courtney Barber, who placed third at state last season in the 300 hurdles. Barber is also a high jumper. She won the Topeka West meet last year with a leap of 5 feet, 6 inches. Barber then placed fifth at regionals, but only the top four qualified for state.
"If she works and improves, she has a chance to be one of the best high jumpers in the state," Hood said.
LHS will open its season today in the Mid-Winter Classic at Hummer Sports Park in Topeka.
Copyright 2018 The Lawrence Journal-World. All rights reserved. This material may not be published, broadcast, rewritten or redistributed. We strive to uphold our values for every story published.