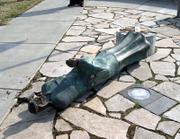 A bronze sculpture honoring mothers who send their children to war sustained significant damage Friday when a man pushed it to the ground at Haskell Indian Nations University.
A 39-year-old Lawrence man was arrested and taken to the Douglas County Jail on suspicion of felony criminal damage. A preliminary estimate listed damage at $16,000.
"It was knocked off the pedestal. It hit the ground pretty hard," said Lori Tapahonso, Haskell spokeswoman.
Witnesses called Lawrence police about 2:40 p.m. and said the man pushed on the 6-foot, 250-pound sculpture until it fell. Police found the suspect at Indian Avenue and Massachusetts Street, where he attempted to flee on a bicycle. He was caught by officers who ran after him.
The sculpture, called the War Mothers Memorial, was created by artist Barry Coffin, who lives in New Mexico. It was unveiled in May 2005 outside the Haskell Cultural Center and Museum. The sculpture was commissioned by the Haskell Veterans Club and Auxiliary.
"We put this up to honor all mothers who send their kids to war," said Virgil Allen, Haskell facilities manager and a member of the Veterans Club. "It was something that the Veterans Club worked hard to raise funds to buy and give to the school."
Allen said about $50,000 was raised during a three- or four-year period.
The sculpture depicts an American Indian woman with her extended hands clasped in prayer. She is wearing a headband, and on each side of her are two eagle feathers attached to medallions representing the Army, Navy, Air Force and Marines.
Coffin has Haskell ties. He is the son of longtime Haskell coach and athletic director Tony Coffin, who died in 1966 and is the namesake of Haskell's Coffin Sports Complex.
While Barry Coffin designed and made the cast for the statue, it was bronzed by Ad Astra Art Bronze Inc. of Lawrence. The statue can be repaired and a more complete damage estimate will be determined next week, Tapahonso said. It was taken into storage until repairs can be made.
The suspect has no association with the university but is seen often in the area catching a bus, Tapahonso said. It is not known why he pushed the statue, she said.
Copyright 2018 The Lawrence Journal-World. All rights reserved. This material may not be published, broadcast, rewritten or redistributed. We strive to uphold our values for every story published.