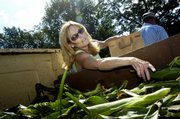 The Downtown Farmers Market was booming with business Saturday, as area farmers tried to make up for last week's sales, which were dampened by wet weather.
Market Schedule
The Saturday Farmers Market, 824 N.H., is open from 7 a.m. to 11 a.m. through Nov. 10.A new Wednesday market at Ninth and Iowa streets is open from 4 p.m. to 6 p.m.Tuesday and Thursday markets operate from 4 p.m. to 6 p.m. at 1020 Vt.More information on the Downtown Farmers Market may be found online at www.lawrencefarmersmarket.com.
"Last Saturday was four hours of deadly rain," said vendor Lou Britt. "It was funny because we still had our regulars. It was amazing!"
The weekly market drew about 1,200 shoppers June 30, despite a day full of rain, compared with the 3,000 to 3,500 shoppers it sees other weeks, organizers said.
While the rain wasn't beneficial for business, it was great for summer crops, said farmer Don Kilburn, of Lawrence.
Since the market opened in April, vendors have grown and sold peppers, zucchini, eggplant, squash, cucumbers, onions, potatoes, okra and other produce.
Some vendors were missing tomatoes, apples and peaches because of weather complications, said Mercedes Taylor-Puckett, market coordinator.
Next week, farmers said, they're hopeful Mother Nature will allow them to expand their selection.
"That real high humidity kind of hurts everything," Kilburn said. "That's why we don't have any tomatoes yet."
He said warm temperatures this week should allow the fruit to ripen.
Other farmers said they hope homegrown bell peppers, watermelons and cantaloupe will be ready to bring to the market next Saturday.
"We grew a lot of melons, which is pretty rare," Britt said. "Last year (customers) actually followed us in from the street."
Lou and Richard Britt were among 78 vendors set up at Saturday's farmers market, which is the oldest in the state. Its popularity has generated a waiting list of sellers wanting to participate. Sellers are required to produce everything they sell.
"We feel fortunate to be here," said Carolyn Slawson of Slawson Farms in Tonganoxie. "This has been a fantastic year."
Copyright 2018 The Lawrence Journal-World. All rights reserved. This material may not be published, broadcast, rewritten or redistributed. We strive to uphold our values for every story published.