Audio Slideshow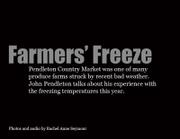 Pendleton Country Market
Photo Gallery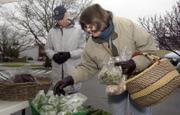 Lawrence Farmers Market
White slush clung to the roofs of trucks. Sellers - some adding hot chocolate to their list of goods - stood stiffly in the cool air, bundled in hats, mittens and scarves.
It may be April, but it seemed more like February for Saturday's season kickoff of the Downtown Lawrence Farmers Market at 824 N.H.
"This has got to be the end of it," Debbie Yarnell of Homespun Hill Farm said of the cold snap that has wreaked havoc on early-season crops and put a slight damper on the market's seasonal debut. "I don't know that we've ever had snow and 10 days of winter in April in Lawrence, Kansas."
About a dozen vendors, offering meats, baked goods and other unique, locally produced items, participated in the season opener. And despite the record-low temperatures that zapped many plants, leafy greens did make an appearance Saturday.
The surviving vegetables made it through with the shelter of hoop houses and doting caretakers.
Avery Lominska spent several nights in a sleeping bag on the floor of his hoop house, surrounded by the plants that are his livelihood. He stayed close by to keep a kerosene heater running as the temperatures outside laid siege on plants and trees.
"I had like 600 lettuce plants and a couple hundred pounds of spinach, and I wasn't going to let it get frozen," Lominska said Saturday, standing behind his table with fresh lettuces and greens laid out before him.
John Pendleton of Pendleton's Country Market said the cold snap was unlike any other.
"It was not just a minor freeze," he said. "It was a severe freeze. In talking to some of the older farmers around here, a lot of them say they've never seen a freeze quite like this."
Though apples and peaches were devastated, it's too soon to predict the fate of berries, such as strawberries and blueberries, said Mercedes Taylor-Puckett, coordinator of the Farmers' Market. She said farmers are waiting to see whether plants snap back after a few days of warm weather.
The market started two weeks earlier this year in part to give nursery vendors an opportunity to offer their plants during the peak spring planting period. And despite the uncooperative Mother Nature, there was an excitement in the air at the start of a new season.
"This is as bad as it's going to get," Taylor-Puckett said. "It's all up from here."
Copyright 2018 The Lawrence Journal-World. All rights reserved. This material may not be published, broadcast, rewritten or redistributed. We strive to uphold our values for every story published.