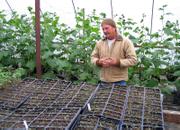 Rain, snow or shine, the Lawrence Farmers Market's 2007 season kicks off Saturday two weeks earlier than usual.
But the recent cold snap has left local producers with little to bring to opening day.
"I've lived in Kansas my whole life but I've never seen or experienced anything quite like this," said Kevin Irick, who farms near Linwood and sells produce at the market. "We need sunshine bad to warm up the ground."
The result: some fruits, including apples and peaches, won't make it at all to the market season, and other produce will run several weeks behind.
"But luckily we have meat vendors, baked goods, crafts and prepared food vendors, so there will be a lot at the market," said Mercedes Taylor-Puckett, the market's coordinator.
The earlier market opening was designed to take advantage of longer growing seasons for some produce, she said, and to give producers of meat and baked goods an extended selling season.
"But Mother Nature is not cooperating," Taylor-Puckett said.
The market has more than 75 vendors each weekend. The show will go on, even though Irick will end up waiting until May for his tomatoes.
"We'll be there," Taylor-Puckett said. "I'll definitely be there, hopefully not with a snow shovel."
Hours of operation
The Downtown Farmers Market will run from 7 a.m. to 11 a.m. Saturdays in the parking lot at 824 N.H.
The market also will be open from 4 p.m. to 6 p.m. Tuesdays and Thursdays in the parking lot at 1020 Vt.
The market will be open through November.
Copyright 2018 The Lawrence Journal-World. All rights reserved. This material may not be published, broadcast, rewritten or redistributed. We strive to uphold our values for every story published.