The state's longest-running farmers' market is entering the electronic age, just as it celebrates its 30th birthday.
Shoppers visiting the Downtown Lawrence Farmers Market now can use debit cards to make purchases.
By using Pulse or Star cards, shoppers can get $5 tokens for buying flowers, vegetables, baked goods or anything else at the market's more than 80 vendors setting up shop in downtown Lawrence.
The debit transactions will require customers to pay a $1.50 service fee, but market officials who have run tests during the past couple weeks have found that customers welcome the flexibility of being able to pay with plastic, if necessary.
Mercedes Taylor-Puckett, market coordinator for Downtown Lawrence Inc., figures that the use of debit cards could increase sales by about 20 percent, judging by results from other markets nationwide that have added electronic payment capabilities.
The Lawrence market is one of two in Kansas - the Kansas Grown Wichita Market is the other - that are part of a pilot program to use a single electronic payment register that can process Vision cards, which are used for food stamps and other public-assistance financing.
Consumers simply buy tokens at the information booth, then go shopping in the market.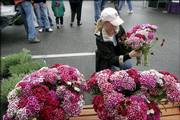 "We're very excited about being chosen for this program," Taylor-Puckett said. "To be chosen as one of the markets in our area is just wonderful. We're paving the way to expand the program next year to more farmers' markets."
The 2006 Electronic Benefits Transfer Demonstration Project is funded in part by the Kansas Rural Center, Catholic Campaign for Human Development, Kansas Department on Aging and Kansas Department of Social and Rehabilitation Services. Partners also include K-State Research and Extension and the state's departments of agriculture, commerce, and health and environment.
The market in downtown Lawrence long has been a trailblazer. Ed Sample and a handful of other farmers founded the market in 1976 by setting up shop in a parking lot at Eighth and Vermont streets.
They sold fresh and homemade products from 7 a.m. to 4 p.m. in those days, or until they sold out.
Birthday bash
What: Downtown Lawrence Farmers Market 30th Birthday Bash When: 7 a.m.-11 a.m. today Where: City parking lot, 824 N.H. Who: More than 80 vendors offering regional agricultural products, from fruits to flowers.
"We thought we were doing well if there were as many as five vendors," Sample said. "Usually there were three or four."
This year, the market runs from April 29 through Nov. 11 - 4 p.m. to 6 p.m. Tuesdays and Thursdays at its longtime home in a lot at 1020 Vt., and 7 a.m. to 11 a.m. Saturdays at 824 N.H.
The Saturday market remains the main event, and today's edition will include more than usual. The schedule calls for serving birthday carrot cakes at the tops of each hour, and drawings for market "goodie" cards.
Collector's edition market posters will be available for free, and children's coloring books will be available while supplies last.
Copyright 2018 The Lawrence Journal-World. All rights reserved. This material may not be published, broadcast, rewritten or redistributed. We strive to uphold our values for every story published.