Attendance at the Downtown Lawrence Farmers Market grew by 20 percent in its new location, organizers said Saturday.
"It's been awesome," said Amy Saunders, who sits on the market's board of directors. "We really appreciate the community coming out and supporting us."
Saturday was the last day of the weekly market, which runs from April to November.
This year, the market moved to 824 N.H. from its previous location on Vermont Street, between West 10th and 11th streets.
Saunders, owner of Amy's Meats, Lawrence, estimates an average of 3,600 people attended each Saturday morning, up from 3,000 a week last year.
"The numbers are a lot better this year and we really, really appreciate that," she said. "It's a good show of support. We had a lot of new faces this year, and that was really nice."
The market, which started in 1976, is a place where locals sell homegrown produce, including vegetables, fruits and meat, as well as handmade crafts, baked goods and other items.
"To have the market in this space is just phenomenal," said John Pendleton, owner of Pendleton's Country Market, Lawrence. "We have so much potential for growth here that we did not have at the other site."
Pendleton has been selling at the market for 26 years.
Photo Gallery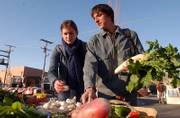 Lawrence Farmer's Market
"It's a little slow, being the last day of the market, this cold and whatnot," he said. "But by golly, during the summertime this place is just absolutely hopping, and that's what's exciting about it."
But Floyd Ott wasn't so enthusiastic about the change in venue.
"I like my old stall better," he said, while losing control of a Nured Winesap apple. "I have a place here that if I drop an apple, it goes to China."
Ott, who grows fruits and vegetables on his farm six miles south of Eudora, said business was better on Vermont Street. He said customers had a hard time adapting to the new location and sometimes ignored him.
"They forgot to do the rounds, they did the half-rounds," said Ott, who has been a part of the market since 1976. "I think it'll get better. It all depends on the year and the weather."
"Market was fine where it was," said Rob Corser, Kansas University professor, as he purchased meat from Saunders. "But we're happy to see it expand."
Corser said he and his wife, Ann Huppert, looked forward to buying from and chatting with the shoppers each week.
"It's an important part of the social fabric of Lawrence," he said. "We're sad to be without it for the next few months."
Saunders said the market would stay in the New Hampshire Street location next year, reopening in mid-April 2007.
She said there were many benefits, including more space for vendors, more parking for customers and increased visibility.
"It's one of the best things we've done," Saunders said. "The move really helped us kind of get out in the limelight again."
Copyright 2018 The Lawrence Journal-World. All rights reserved. This material may not be published, broadcast, rewritten or redistributed. We strive to uphold our values for every story published.