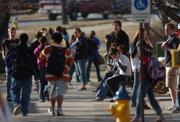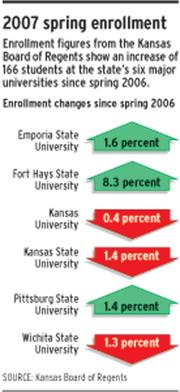 The big schools got smaller, and the small schools got bigger.
That's the picture painted statewide Wednesday as the Kansas Board of Regents released universities' enrollment numbers for the spring semester.
The three biggest universities in the state system - Kansas University, Kansas State University and Wichita State University - all reported slight declines in the size of their student body this semester compared with spring 2006.
"If it's a stable enrollment, we're happy," KU spokesman Todd Cohen said of the overall decline of KU's student body by 0.4 percent, or 119 students. "The administration is very happy with the size of the student body."
Meanwhile, the three smaller universities - Pittsburg State, Emporia State and Fort Hays State universities - all grew. The fastest-growing school statewide is Fort Hays State, which added 582 students, an 8.3 percent increase that the school's leaders attributed in part to relatively low tuition.
The size of the KU student body on the Lawrence campus shrunk by 273 students, or 1.1 percent. But at the KU Medical Center in Kansas City, Kan., the spring enrollment grew by almost 6 percent to a record 2,769 students, fed in large part by growth in the School of Nursing.
The nursing school's graduate degree program added 63 students, an increase of nearly 30 percent.
"We're trying to add to the pool of nursing educators," School of Nursing Associate Dean Rita Clifford said in a statement. "The next big nursing shortage will be nursing faculty and clinicians."
The statewide figures are based on a census taken each semester on the 20th day of classes.
KU's student body appears to be leveling off after roughly a decade of steady growth. In spring 2006, a record 27,994 students were enrolled at KU for the spring semester.
With this semester's drop, the school has 27,875 students.
This spring, 1,730 fewer students are on campus than last fall - primarily because of graduation or because they dropped out.
"The spring enrollment always drops a little," Cohen said.
Copyright 2018 The Lawrence Journal-World. All rights reserved. This material may not be published, broadcast, rewritten or redistributed. We strive to uphold our values for every story published.