Chat with Kansas University Provost Richard Lariviere
January 30, 2007
This chat has already taken place. Read the transcript below.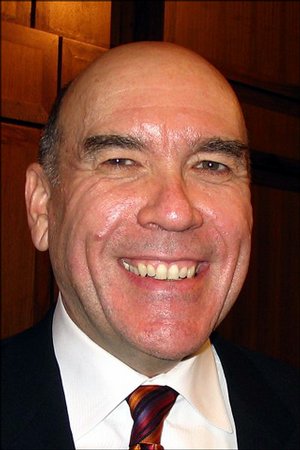 Kansas University Provost Richard Lariviere is in his first year of service at KU. He'll take your questions Tuesday afternoon.
Moderator:
Hello- This is Laura Berger and I am moderating today's chat with Provost Richard Lariviere. We will get started
I was a member of the Kansas National Guard and student at KU prior to my deployment to Iraq in 2004. Upon my release from active duty in January 2006 I attempted to reenroll at KU and much to my dismay, discovered that I had to pay out of state tuition . I have been a Kansas resident since birth. With less than a week before classes started and not wanting to fight another governmental regime, I withdrew from KU.
I further found that I was not eligible for loans, grants and scholarships that I had in place prior to my deployment. The Department of Education had put me in a default status ruining my credit and ability to receive any assistance with my education. With the help of Congressman Moore's office, the Department of Education corrected my loan status.
I have enrolled at KU this semester and found out that I had to prove that I had been a Kansas resident while on deployment with the Kansas National Guard.
I was told by the KU Office of the University Registrar, that with any military withdraw, you are automatically put in the out of state tuition category. I know of current members of the Kansas National Guard who have been charged out of state tuition throughout their tenure at KU, going as far as hiring an attorney to attempt to force KU to follow State statutes without success.
Your comments and help in this as well as other issue concerning veterans would be appreciated.
Provost Richard Lariviere:
It certainly sounds like you have had your fair share of bureaucratic difficulties. I am not familiar with the Registrar's policies that you describe, but I will look into it and see if there is anything that we can do to make it easier for folks in your situation.
Thanks for bringing this to my attention.
Welcome to KU, I've heard many good things about you. There seems to be a need for areas on campus, where professors can teach in computer/technology areas or reserve those areas for class time. For example, a classroom with computers, which professors can use throughout the semester. With the limited amount of rooms and space on campus, how do you provide this service? Do you agree that this is needed more at KU?
Provost Richard Lariviere:
Thanks for the kind words. Tech classrooms are, as you know, increaingly important and in demand. We have upraded many classrooms in the past two years (I don't have the exact number that were done in this past calendar year, but I think that it was 70+). We would like to do 100% of our classrooms. The constraint, of course, is money. Not only do we have the initial expenditure, but renewal and upgrading are significant additional factors. We are trying to find the right balance between need and resources.
Has the university calculated the probable "cost" of the Arrowhead KU-MU move in terms of those of us who are in the process of changing our estate plans to eliminate the provisions we'd made for the athletic dept?
Provost Richard Lariviere:
I take it from your question that you don't think that moving this game to Arrowhead is a good idea. This decision was not one that I was involved in at all. I will say, however, that the University of Kansas is very fortunate not to have to use teaching and research money to support the intercollegiate athletics program. Many of America's most famous universities spend millions of dollars annually from general education funds in order to keep their athletics programs viable. Because of the sound management of KU Athletics we are NOT in suffering such a problem at the University of Kansas.
Along with many of my fellow graduate students, I continue to feel disenfranchised by your decision to forbid graduate student votes on faculty hires. This longstanding KU tradition was overturned with seemingly little consultation with faculty or graduate students. How would you explain the rationale for this decision and how suddenly it was made?
Provost Richard Lariviere:
Universities are complex places with lots of stakeholders and lots interests. Of all of the factors that go into making a university the most important--by a large measure--is the faculty. Decisions relating to faculty do more to shape the destiny of a university than any other factor. There are two moments when faculty quality are determined: hiring and promotion/tenure. When I came to KU I discovered that the practices associated with hiring and promotion/tenure varied dramatically. This was of concern to the Deans and to a number of senior faculty. This issue came to my attention at just the moment when departments were beginning both the hiring process and the promotion and tenure process for this year. Rectifying the inconsistencies required prompt action. I made the decision to confine the KU practice to the norms of the profession. Those norms, in my view, require student input in both hiring and promtion/tenure. Those norms do not, in my view, confine that input to student votes on committees. As part of the changes that we have instituted, deans and department chairs are being required to articulate what the student views are on these individual cases how they have solicited student input.
Dear Provost Richard Lariviere,
QUESTION 1:
What avenues and methods would you use to resolve circumstantial administrative barriers impeding advancement in one's career?
QUESTION 2:
Would you be available to meet for a half hour to discuss this matter that involves the University of Kansas?
Provost Richard Lariviere:
I am not sure what you are asking in your first question. Perhaps you could let me know what is bothering you and we can see if there is a feasible remedy. Sandy Patchen can find a time for us to meet.
As a 14-year nontrad student at KU, I would like to see an effort made to offer more classes which meet the core curriculum requirements made available as evening courses. I am glad to report I am graduating this year, but it would have been a lot easier if this had been the case for the past 7 years. Is this something that you see happening in the future?
Provost Richard Lariviere:
First of all, congratulations on your impending graduation. You have demonstrated real tenacity. We are seeing gradual shifts in the patterns of students' educational careers. There are a lot of explanations for these shifts--some understandable and good, others, well, not. Given the resource constraints that we are always under, the challenge is to find the right balance in offerings that accommodate the largest numbers of students. At present, this still means that "day" courses are in greatest demand. We are not ignoring those, who like yourself, find themselves in circumstances that require alternatives. Regrettably, we have not yet figured out how to deliver the same breadth of offerings in evening classes that we are required to offer during the 8-8 work day.
KU owns 20 acres of wetlands in the Haskell-Baker Wetlands National Natural Landmark. This tract was originally owned by Haskell Indian Nations University but the BIA decided it was surplus property and transfered it to KU without consulting students, faculty or the tribes. Would you consider transferring it back to HINU?
Provost Richard Lariviere:
I am not familiar with the terms of these transactions, so I am not in a position to say what the University (State?) might be inclined to do.
Recently, a vote was put to the students for an increase in fees for all CLAS students, to fund a new science education building adjacent to Malott. The measure was voted down, but is this a option that's being considered? KU likes to think it making progress in becoming a top 25 research school, yet all the money is spent on new building on west campus, where very little teaching actually occurs. In the meantime, our teaching labs in Malott and Haworth are quite old, and even the research labs in those building are not up to par with what needed for a top notch research school. Do you have any ideas to help this situation?
Provost Richard Lariviere:
There is, as far as I know, no proposal for an increase in fees for a new science education building. You have identified one of our most pressing needs, however. Malott and Haworth are both buildings whose noble service has exhausted them. They desperately need refurbishing. We are encouraged that the legislature and the governor understand the extent of this problem. My impression is that the political leadership of Kansas are working hard to identify resources to address this problem. This kind of collective resolve is exactly why being in Kansas is so attractive.
Moderator:
That is all the time we have today. Thank you to all who posted great questions and to Mr. Lariviere for coming in to chat. Have a great day.